Liu's future on shaky ground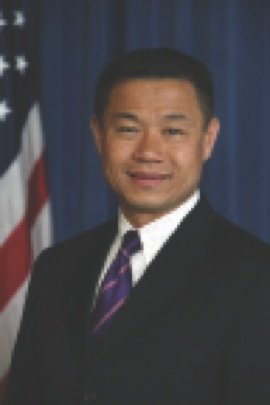 "Thank you, New York! Thank you very much! I will not let you down!" screamed John Liu two-plus years ago when he earned the Democratic nomination for New York City comptroller. Liu had just defeated David Yassky in a runoff and was flying high.
Now it looks like Liu's meteoric rise may be followed by an equally spectacular fall.
Last week, Liu's campaign treasurer, Jia "Jenny" Hou, a native of Beijing who currently lives in Flushing, was charged with conspiracy to commit wire fraud, attempting to commit wire fraud and obstruction of justice. She was released on $100,000 bail after a court appearance. She is accused of involvement in a scheme to funnel large and illegal campaign contributions to Liu through straw donors. The federal government said an investigation presented close to 40 fraudulent donations. Some of the donors were reimbursed after the fact. She faces 60 years in prison if convicted of all charges.
Union officials, former elected officials and aspiring elected officials alike had something to say about Liu and some even advocated his resignation. Greg Floyd, president of Teamsters Local 237, told the AmNews that it'd be hard for Liu to pretend that this scandal isn't happening.
"He's walking around acting like he doesn't know what's going on," said Floyd. "He's either inept or conflicted. Either way, that's not good. He needs to take responsibility for his campaign. He can no longer put his head in the sand and act like everything else was going on around him and he didn't know it."
When asked if this scandal exposes a flaw in Liu or in his operation, Floyd said, "This is definitely him. This is not his operation. You put this team together. This wasn't a team that somebody gave him, so he has to have full responsibility for what's going on."
Tom Allon, current publisher of biweekly political newspaper City & State, feels that Liu should step down.
"It saddens me to call on the comptroller to resign, but I refuse to keep silent when the billions of dollars in pension funds that our public service employees entrust to our city are at stake," said Allon in a statement. "I do not know if the charges against Comptroller Liu's campaign associates are true or whether the comptroller will be implicated in the U.S. attorney's ongoing investigation, but the bottom line is that the comptroller's credibility has been so severely undermined that he can no longer do his job effectively."
Allon is a declared candidate for the 2013 mayoral election and potential opponent for Liu, if Liu does in fact decide to run in that campaign. When asked to respond to Allon's statement, Liu spokesperson George Arzt told the AmNews that they had one word for Allon: "Who?"
But it is not just potential political opponents who are calling for his resignation, as former Mayor Ed Koch also called for Liu's resignation during an interview with the New York Post. "John Liu is toast. I expect John Liu will step down before his term is over," he said. "I don't think John Liu will sleep well tonight and for many nights to come."