Kenyans up in arms over 'insulting coverage' by U.S. media giant
3/14/2012, 5:55 p.m.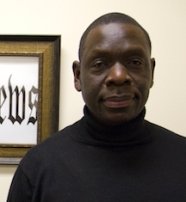 Mar. 13 (GIN) -Kenyan nationals responded furiously to a recent report on the TV network CNN which described "widespread violence" in the East African country and used an image of a burning Kenyan flag after a single attack at a busy bus station.
The grenade attack on Mar. 10 was indeed deadly, killing six people and injuring over 60 but it was an isolated incident in a country bordering Somalia and dealing with the spillover from an international war in that country.
CNN's disputed portrayal of Kenya was followed by a YouTube video of a Kenyan caller demanding an official apology from CNN for its sensationalistic reporting. The caller accuses CNN of demeaning Africa and Africans.
The station uncharacteristically responded with an apology. "Our reporting on last night was accurate, the banner used in the bulletin was not... Apologies to all," tweeted David McKenzie, a CNN reporter based in Kenya. The offending news report has reportedly been removed.
Meanwhile, a video called "Kony 2012" by a group calling itself "Invisible Children" also received a flood of criticism for simplifying the Uganda war and trying to portray Americans as saviors of suffering Africans.
The video which spotlights Ugandan rebel Joseph Kony of the Lord's Resistant Army had gone viral with over 15 million hits within two days.
Journalist Michael Wilkerson, formerly based in Uganda, was among those finding serious flaws and omissions in the video. "First, the facts... Following a successful campaign by the Ugandan military and failed peace talks in 2006, the LRA was pushed out of Uganda and has been operating in extremely remote areas of the DRC, South Sudan, and the Central African Republic -- where Kony himself is believed to be now," he wrote.
"Additionally, the LRA (thankfully!) does not have 30,000 mindless child soldiers. This grim figure, cited by Invisible Children in the film, refers to the total number of kids abducted by the LRA over nearly 30 years. "
Milton Allimadi, a Ugandan and publisher of the NY-based Black Star News added: "Invisible Children has been acting as apologists for Gen. Yoweri Museveni's dictatorship and the U.S.' goal to impose AFRICOM- the US Africa Military Command on Africa.....it's as classic as propaganda pieces come."