Luxury legwear...designed to thrill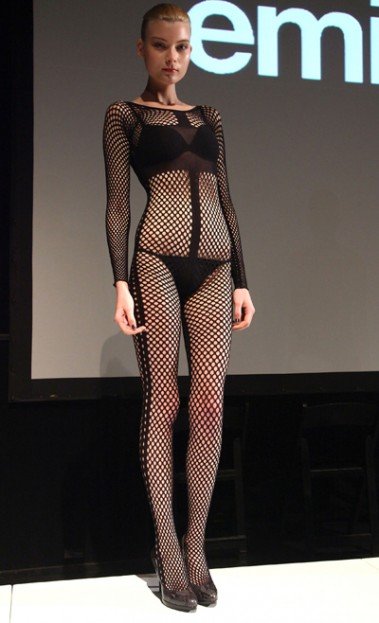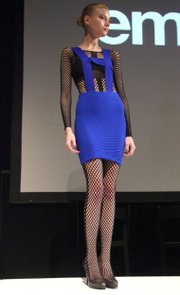 For fall/winter 2012, legwear designer Emilio Cavallini showed an out-of-the-box, sexy collection of tights and bodywear designed to incite a woman's sexual fantasies.
On the big screen, there's a fashion story in how a woman puts on her body- and legwear. At this show, all eyes were on the screen. The leg and body styles were pretty, soft and feminine and the look went from shocking to chic.
In a unique departure from the usual catwalk show, Cavallini's cutting-edge presentation at Mercedes-Benz Fashion Week at Lincoln Center took the form of cinema verite, a voyeuristic peek into the sensual and provocative world of a woman behind closed doors.
Shown on a dramatic 21-foot screen, the short film, entitled "Risque Business at the Florence Excelsior Hotel," captured a free-spirited woman on a short holiday in Florence. After shopping at the Cavallini boutique, she retreats to the privacy of her hotel room, where she tries on pair after pair of sexy tights and bodywear, oblivious to everything except the pleasure of her own body. She admires her reflection in the mirror until she decides to leave the room wearing only a lacy, body-revealing catsuit. The presentation was all so fabulous, enlightening and impressive.
"My collection took inspiration from the 1950s pin-up model Bettie Page but really explores the sexual expression and fantasies of all women," said Cavallini. "Bettie Page was the ultimate femme fatale, exciting the fantasies of men and women at a time when 'nice girls' wouldn't dare to look like that or act like that."
Some of the highlights of the collection include bold black floral lace and exaggerated fishnet styles in tights, bodysuits and thigh-highs, seamed sheers with head-turning tattoo motifs and shredded tights with a matching skin-tight bandeaus. Cavallini's Victorian floral and paisley patterns on sheer tights and tanks give the illusion of nudity.
Cavallini's legwear for fall/winter 2012 is for women who dare to be different and women who enjoy taking risks with their fashion choices. Cavallini's focus on sensuality and individual expression is explored through legwear designs. For more than 40 years, fashionable women around the world have chosen Cavallini hosiery for its unique designs, luxury fabrication and incomparable quality.
Cavallini's fall/winter collection adds another level of drama, mystery and sexiness for women who aren't afraid to be noticed. Daring and glamorous for modern-day vamps, the super-chic collection screams, "I'm not the average girl next door." As the legwear category continues to skyrocket, Cavallini's statement-making designs offer women creative ways to reveal their legs, express their sensuality and unleash their fashion power.
Good Show!