Marketing: Some trade secrets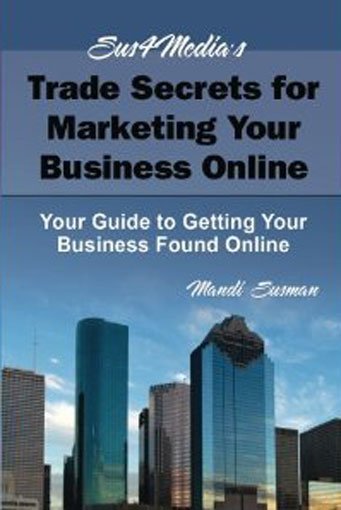 Can your customers find you online? "Trade Secrets for Marketing Your Business Online," by Mandi Susman (CreateSpace, 2012), is an excellent step-by-step guide for helping people find your business online.
There are over 1 billion local online searches done every month. The number of online searches is growing by 50 percent every year, and 80 percent of buyers search online first. According to Susman, "If your business is not showing up on the first page of Google, you are leaving money on the table--and your competitors are getting your customers."
After 15 years of working in human resources at PricewaterhouseCoopers, IBM and the Metropolitan Museum of Art, Susman started Sus4Media in 2010 to help small, local businesses in her neighborhood thrive, not just survive, in this turbulent economic climate.
Since signing her first client, she has evolved Sus4Media to provide social media, video, mobile and search engine marketing services to small and medium-sized business from coast to coast.
In January, Sus4Media was accepted into the Bronx location of the Sunshine Suites Business Incubator, and their first book, "Trade Secrets for Marketing Your Business Online" was released in February. It's available at amazon.com. This book is a must-read, especially for new small business owners.