Living wage passes; mayor vows to veto Quinn outburst steals the show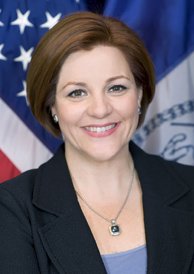 On Monday, the New York City Council voted in favor of the Fair Wages for New Yorkers Act 44 to 5. While the bill has drawn praise from elected officials, activists and union leaders, New York City Mayor Michael Bloomberg said he would veto the bill. According to City Council members, they have enough votes (34) to override any veto by Bloomberg, though the mayor said he'd sue in court to block the law if that were to happen.
Under the legislation's terms, any private development project that accepts $1 million or more in direct taxpayer subsidies has to pay employees a living wage of $10 an hour with health benefits or $11.50 an hour without benefits. Needless to say, some politicians, union leaders and activists were happy see the bill pass with such overwhelming support and were singing its praises.
"We are proud to have played a lead role in building the living wage movement and shaping this legislation," said Retail, Wholesale and Department Store Union President Stuart Appelbaum. "The city needs to create higher wage jobs, not poverty-wage jobs. Passage of this legislation is a major triumph for working people, for democracy and for our city."
"Companies have a responsibility to their workers and to the taxpayers when they enter into a contract with the city," said Council Member Jumaane Williams. "That responsibility extends to providing their workers with a salary they can survive on. If these companies cannot manage that, then perhaps they should not be engaging in such large contracts. There are plenty of responsible employers, big and small, that will step up in their place."
Bronx Borough President Ruben Diaz Jr. chimed in as well. "For too long, major development projects have taken heavily from the taxpayers' wallets while providing only poverty-wage jobs," he said. "The Fair Wages for New Yorkers Act will guarantee that when major developers take city dollars, they will do right by their employees and taxpayers."
However, as the bill was being rolled out to the wider public, all did not go according to the political script. During a news conference on Monday afternoon in front of City Hall, Council Speaker Christine Quinn lashed out at a rally attendee for making a disparaging remark about Bloomberg.
During her introduction and acknowledgement of fellow officials and activists present, one attendee yelled out, "Everybody but Pharaoh Bloomberg." After turning around silently and staring for a few seconds, Quinn admonished the protester and demanded an apology.
"That's not appropriate," said Quinn. "You stand here talking about democracy and wanting people to listen. In a democracy, people have the right to have different views, and they do not--we do not--have the right to then call them names. So I would just ask if that's what this protest is about, I'll go right back on inside."
After a half-hearted apology from the attendee, Quinn said, "Congratulations on the bill; I'm not going to participate in any name-calling." She then walked back inside City Hall to a chorus of boos.