Living wage passes; mayor vows to veto Quinn outburst steals the show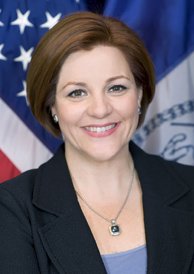 Michael Walrond Jr., the senior pastor at First Corinthian Baptist Church of Harlem, took to the podium minutes later and criticized Quinn for her actions, much to the delight of many of the attendees. Walrond stated that their movement should align with people who are doing this because it's for justice and not because it's "politically expedient."
"This has been a long and arduous struggle, and we still have much work to do," said Walrond. "There are still forces in this city, led by our pro-poverty billionaire mayor, who believe that the pervasive income inequality that exists in this city should be the norm. However, in this journey, many have now discovered that organized people can always overcome organized money."
At a news conference later on in the day, Quinn said that she still agreed with the bill but defended her actions earlier that day. "I feel incredibly strongly that all of us in government have to do everything we can to make sure government is civil."
Meanwhile, Walrond told the AmNews what he thought of Quinn. "You cannot talk about democracy and then want to muzzle someone for voicing an opinion," stated Walrond. "And then because they voiced an opinion you didn't agree with, you demand an apology. That is not democracy.
"To use this moment and make it a personal moment--instead of a moment of celebration--for something that countless people have been laboring over for a long time, I think, was tragic," concluded Walrond.