Assemblywoman Barron: Community-minded, working for peace and power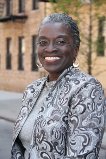 Saying that she is "very, very pleased" with this achievement, Barron added that she also feels gratified to "have the influence of the office to express to the general public [their] ability to get contracts and being able to express my opposition to the attorney general to the Murdock Group being awarded the contract for Race to the Top.
"Fortunately, they did not get it. At Brookdale Hospital, we fought to have the staff be a part of the negotiations because they wanted to merge, and we wanted to fight that...They also switched the union health benefits so they are not as good.
"I just want to be a voice to represent the little guy, the working people, the oppressed and the poor," said Barron. "We are able to have enormous influence in the Assembly. The work my office does includes fighting foreclosures. Mr. Marvin Faulkner - who works in my district office, has worked with over 80 families whose homes are in danger of being foreclosed upon, and non have lost their homes.
"Health and housing are the important elements that we are concerned with. I am happy with what my staff has done."
Barron was also instrumental in the Assembly's rejection of special education cost shifts that would have put students with disabilities at risk and further burden taxpayers.
"Blind, deaf and disabled students are some of the most vulnerable members of our society. Now is not the time to put them at an even greater disadvantage by eliminating all of the direct state aid for these historically state-supported schools for the blind and deaf instead of shifting these special education costs to local school districts."
Some of the other legislation Barron has pushed includes stopping the special millionaire tax break and helping thousands of unemployed New Yorkers. Committees she has been a member of include Aging; Alcoholism and Drug Abuse; Health; Higher Education Housing; and Social Services
Smiling broadly, Barron added that she loves being in the Assembly and working for her district. "I marvel at it, because it is not something I set out to do. It is something that I was drafted into by my community. So I am humbled that God has blessed me to do this."
As she ramps up petition-gathering in her district, Barron told the Amsterdam News, "My campaign is very grassroots. We have all volunteers--no paid staff. People come to us because they respect the work we have done. Our donations mainly come from low- to middle-income people; we get small donations from community people, including labor."