Where to get your eat on in Huntsville, Ala.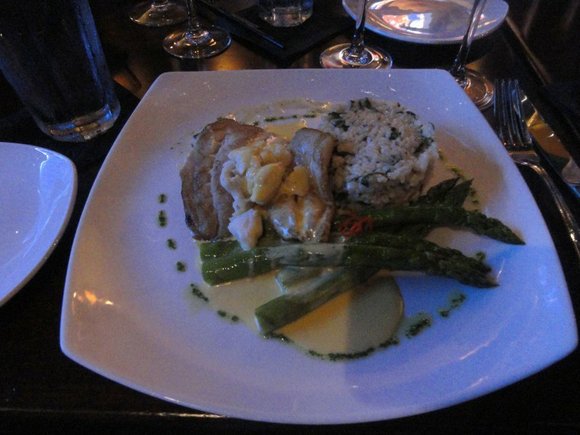 As we learned in part one of this series, I sojourned to northern Alabama to enjoy an odyssey of epicurean indulgences to help celebrate 2012 as "the Year of Alabama Food."
The first stop was Huntsville, where I took time to grasp its history and get the general lay of the land and then started sampling all that the city has to offer.
My first impression of the city is that of a boutique, friendly small town that nonetheless offers a breath of cultural expansiveness for its native residents, transplants from bigger cities and those who have left and "come back home." This is evidenced by the number of cultural entities, including the Huntsville Symphony Orchestra, Huntsville Museum of Art, Veteran's Memorial Museum, North Alabama Railroad Museum and a variety of other entities.
But our main visit was to taste, taste and taste some more, and in that regard, Huntsville's got it goin' on!
Knife and fork adventures like none other
Our gastronomic adventures here started off with a real bang at Rosie's Mexican Cantina on University Drive--they also have another location in town, as well as one in Florence, Ala. Founded in 1995 by three longtime area residents who wanted to bring a more upscale flavor of Mexican food to the city, this area favorite is known--and patronized frequently!--by the locals who refer to it lovingly as simply "Rosie's."
The pride and joy of Rosie's is their chef, who brings his expertise and artistic culinary touch learned in Central America to create fresh, savory fare that keeps you coming back for more.
The menu features a wide variety of appetizers like their Deluxe Blanco, layers of spicy beef, queso blanco (a blend of rich white cheeses, tomatoes and peppers) and pico de gallo; soups like the chicken tortilla soup, a tangerine-hued bowl of a bisque-like broth with chunks of moist chicken topped with multi-colored tortilla strips and a slice of avocado (outstanding!); what they call "Rosie's Tradicionales," such as the Pollo Loco, a chicken breast marinated, seasoned and chargrilled on a bed of Mexican rice and topped with creamy queso blanco and served with shredded lettuce and pico de gallo; combination platters; special vegetarian plates, including vegetable and/or spinach enchiladas, quesadillas, burritos and fajitas; and more.
Honorable mention goes out to the soft tacos filled with prime cuts of flank steak--marinated for 24 hours and cooked to perfection, the meat was so tender it literally melted in your mouth--and the fish tacos, prepared with a light, flaky and incredibly moist Mahi Mahi with drawn butter on the side.
To say that they serve generous portions would be an understatement, as each plate was brimming with succulent, savory and lovingly prepared dishes like your grandmother would make. All of our entrees were accompanied with a beautiful bowl of, again, generous dollops of sour cream, guacamole (amazing!), an aioli-like sauce and the most unique coleslaw I have ever tasted--it was made with red cabbage, vinegar, mayo and a touch of cayenne pepper that gave it a slightly piquant flair.