Where to get your eat on in Huntsville, Ala.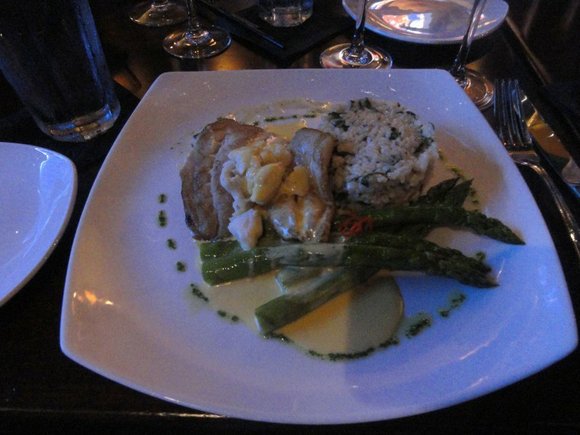 Even if you dine at lunch, you would be remiss to miss dessert--large enough for three or four to share--an amazing array of decadent indulgences to satisfy anyone's sweet obsession: the sopapillas, a classic Mexican flan, tres leches cake and fried ice cream.
Grill 29
One evening we dined at Grille 29, located in the village of Providence, one of the city's newest neighborhoods. The first thing to catch your eye is the expansive outdoor patio with a beautiful fountain, wrought-iron furniture, small performance area for bands and the very warm and welcoming ambiance in which to mix and mingle with friends, neighbors and strangers if you are new to town or to the area. It really captured, I thought, the essence of the Southern hospitality that is so much a part of Huntsville and of the South in general.
The menu here focuses on fresh, upscale steak and seafood offerings and they did not disappoint. For starters, there is the gorgonzola fondue, served in a copper crock teeming with creamy gorgonzola and served with fresh oven-baked breadsticks; the Firecracker shrimp, petite gulf shrimp dusted with seasoned flour and tossed in spicy firecracker sauce (yummy!); the jumbo lump crab-stuffed portabella mushroom; and classic escargot.
Meat lovers can choose from a variety of hand-cut steaks, including an 8-ounce sliced butcher's tenderloin finished with a mushroom ragout; 14-ounce Duroc porterhouse pork chop with an apple cranberry compote--I've never seen a pork chop this huge!--garlic mashed potatoes and fresh green beans; and a 22-ounce premium bone-in cut cowboy rib eye served with a homemade steak sauce and beer-battered onion rings.
As I was trying to tick off as many items on this five-day culinary sojourn from the brochure "100 Places to Eat in Alabama Before You Die," I chose the grouper Oscar, a pan-seared fresh black grouper topped with jumbo lump crab, fresh asparagus and hollandaise. Start the "When Harry Met Sally" chorus! This dish is one of the best grouper dishes I can remember eating and certainly earned its spot on "the list." It was accompanied by a wonderful risotto that was equally to die for.
The Georges Bank sea scallops; Cajun shrimp pasta; Scottish salmon brlee, a very unusual but wonderfully flavorful entree made with broiled salmon crusted with a brown sugar glaze, served with sweet potato hash and caramelized baby onions; and, hold on now, jumbo scallops stuffed with lump crab and topped with a light herb shallot cream sauce stacked on lobster mashed potatoes that made everyone at our table ecstatic.
For dessert --another must here--there's the Tiramisu Tower surrounded by espresso anglaise and chocolate mocha beans, chocolate souffle with brandy cream sauce (amazing!), chocolate truffle cake and raspberry mousse (aka the raspberry truffle cake) covered in chocolate ganache and served with a raspberry coulis or the warm sour cream fudge cake (completely wicked!), served with warm chocolate sauce and vanilla bean ice cream. And that's just a few of the sweet offerings!
To complement each of your courses, Grill 29 offers a fantastic and wide selection of wines plus a bevy of signature cocktails and excellent service on every level. All told, this was a delightful, and delectable, dining experience.
We've still got still more delicious stops to make in Huntsville!
Resource list
Grille 29:(256) 489-9470, www.grille29.com
Huntsville/Madison County Convention & Visitors Bureau:(800) 843-0468, (256) 551-2230 www.huntsville.org
Rosie's Mexican Cantina: (256) 922-1001 www.rosiesmexicancantina.com
The Year of Alabama Food: www.yearofalabamafood.com