Denmark Vesey: Forgotten hero and architect of insurrection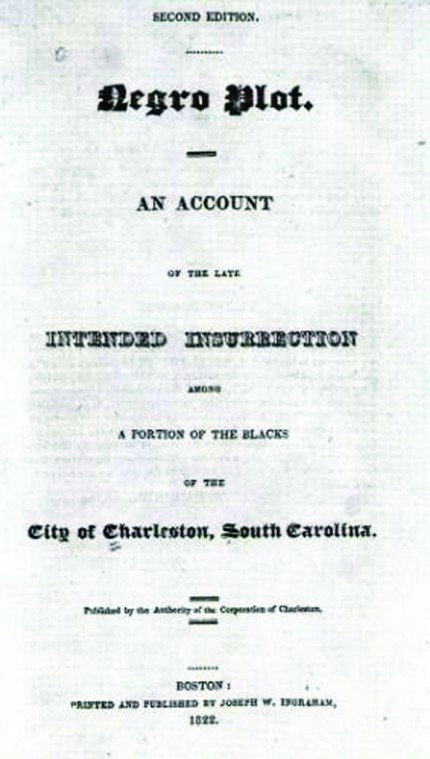 Inspired by the events in Haiti, Vesey came up with an elaborate plan of his own. Charleston's slaves would free themselves from bondage and seize the city. Men from the area and surrounding plantations would attack the city, take control of the guardhouse and block the bridges and roads, killing every white person in sight. An African priest from Mozanbique named Gullah Jack Pritchard helped Vesey gain support. The plan was two years in the making and was carefully detailed.
The uprising date was set for Sunday, July 14, 1822, at midnight. But it was not to be.
Betrayal, Trial and Execution
A plan this big and elaborate was impossible to keep secret. Too many people knew the major details and who the leaders were. Knowing that many house slaves were loyal to their masters, Vesey made sure they were not included. But despite his best efforts, the plan was exposed.
On May 30, 1822, a slave named George Wilson told his master about the planned insurrection. As a reward, he was given his freedom. Charleston authorities moved in fast on Vesey and his followers.
Realizing the betrayal, Vesey burned the lists of names of those involved. He and his top leaders, including Pritchard, were rounded up after a two-day search.
The details of the so-called "Vesey Conspiracy" were revealed during the trial. Whites were horrified to learn that the plan included killing every white person on the spot, as had been done in St. Dominique. Between 6,000 and 9,000 people were implicated. Eventually, the group had planned to use Charleston's ships to escape to Haiti.
Vesey was condemned to death, along with Pritchard and 34 others. Forty-three more were sent to plantations in the West Indies.
On July 2, 1822, Vesey and five others were executed by hanging. Federal troops were called in because of large pro-Vesey demonstrations. Pritchard was executed days later.
While Vesey's plan inspired admiration, it ultimately made life more difficult for South Carolina's Blacks. Whites panicked at what might have happened. Movement for slaves was even more restricted, and freed slaves could no longer enter the ports. A military garrison was put into place to make sure that slaves never had an opportunity to revolt again.
In August of 1822, a report titled "Negro Plot," describing the insurrection in detail, was published. It sold for 25 cents a copy.
The report was the account of the plan given by J. Hamilton, who was the city's intended mayor. Hamilton prefaced his account by noting:
"I have not been insensible as to what it might be politic either to publish or suppress. I have deemed a full publication as the most judicious course...There can be no harm in the salutary inculcation of one lesson, among a certain portion of our population, that there is nothing they are bad enough to do, that we are not powerful enough to punish."
After Vesey was executed, the African Church was destroyed. Though distraught by the loss of their church and leader, congregants continued, in secret, to honor Vesey's revolutionary ideals.
Vesey inspired Black activism throughout the nation. To abolitionists, he was a hero and a symbol for freedom. Frederick Douglass was the first to use Vesey's name as a battle cry. The all-Black infantry in the Civil War would use it again--"Remember Denmark Vesey of Charleston," they cried as they marched into battle.
The Civil War achieved what Vesey could not: the abolition of slavery. But Blacks would not truly be free until 100 years later.