Gastronomic ecstasy in Huntsville, Ala.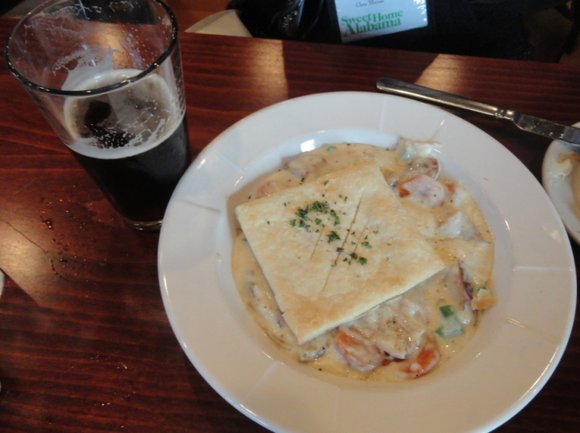 In fact, all of the restaurant's purveyors--meat, produce, dairy, grains and so forth--grow or raise their products within two hours of the city. This local, community-focused, farm-to-table concept is evident in the quality, flavors and creativity of the recipes and presentation of their bimonthly menu.
Seeing as we have been tripping the high calories fantastic of late, I will start with a bevy of wonderful vegetarian dishes, including a roasted butternut tart, tempeh sandwich and mixed mushroom and vegetable potpie--I also sampled the roasted chicken version, which was out of this world. "Lighter Side" entrees encompass flatbread sandwiches, e.g., grilled vegetable, mixed mushroom, BLT, red wine-glazed chicken, curry and apple, Maytag blue cheese and shrimp and tarragon salads. Moreover, their artfully designed bread baskets arrive brimming with hearty grain breads with a choice of savory butter or a fluffy white bean hummus with orange zest butter--just bathe me in it!
Main comfort food dishes for lunch and dinner include a cranberry chicken sandwich; Alabama fried catfish; the best, most succulent roasted chicken breast (humanely raised and hormone free) you have ever experienced in your life; roasted chicken tamales; grilled regional beef tenderloin; and New Orleans-style Gulf Coast shrimp and mussels, just to name a few. The one absolute must-have on the menu is their crispy shrimp and grits--very unique (and very labor intensive), with fried Gulf Coast shrimp stuffed with cheddar grits and served with a smoked tomato dipping sauce. No explanation could do it justice.
An interesting aspect to the restaurant is that although they opted to be a "beer-centric" joint--they also offer beer flights--they possess an extensive 50-plus wines by the glass menu--most of which are under $10.
Speaking of value, I think what probably pushed 1892 into first place in my book are two things: their motto, "We put the restaurant in the neighborhood and the neighborhood in the restaurant," which is evident in the service, decor and ambiance, and their pricing-very modest given the extraordinarily high quality and sumptuous portions that allow people, including families with children, who would not normally be able or willing to spend, all told, anywhere from $35-plus per person for an exceptional lunch or dinner out to experience their upscale fare more frequently.
A TANTALIZING TRIFECTA
Well, my intent was to end this day's culinary adventure with a progressive dinner romp with one of the country's most celebrated chefs--one with former stints at Le Cirque in New York, the Phoenician and Caesar's Palace in Las Vegas and Loews Coronado Bay Resort in Southern California. Alas, that will have to wait until next time.
But there's no hurry. Like travel, a great meal with friends and family or an aged wine or spirit, it's the journey--not the rush to get there, eat it or open it--that makes it all worthwhile. The Year of Alabama Food has much more in store!
Resource list
1892 East Restaurant and Tavern: (256) 489-1242, 1892east.com
Blue Plate Cafe: (256) 533-8808, blueplatecafe.com
Huntsville/Madison County Convention & Visitors Bureau: (800) 843-0468, (256) 551-2230, huntsville.org
The Year of Alabama Food: yearofalabamafood.com