Jumaane Williams says 'Not in My Hood'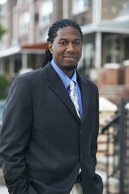 City Councilman Jumaane Williams is taking on violence in his district head on by giving opportunities to at-risk youth. With a reported 67 shootings so far this year in his district, which includes East Flatbush, Williams is saying, "Not in My Hood."
This past weekend, Williams, who serves as co-chair of the Task Force to Combat Gun Violence, held the second annual Not in My Hood March and Resource fair. The event began with a march starting from Paerdegat Park at the corner of Albany Avenue and Foster Avenue and concluded with a community resource fair at the Tilden Educational Campus.
At the resource fair, a number of tables were be set up to provide job, internship and recreational opportunities to the community. Participating organizations included McDonald's, the Department of Youth and Community Development, the Board of Elections and East Flatbush Village Inc.
Not in My Hood came four days after the murder of Tyreck Wheeler, an 18-year-old who was shot in the face on the corner of East 36th Street and Flatbush Avenue. Williams told the AmNews the shooting happened not far from where he was at the time.
"The community has to take a lot of responsibility for what is happening," Williams said. "We keep saying we have to make better choices, and I wanted to have those options there for the youth to take."
Williams said that Mayor Michael Bloomberg and his administration have been "backwards" on dealing with gun violence. While he applauds the mayor for his national stance on taking guns off the street, Williams said that the mayor's elimination of many programs, like after-school programs, for youth are not helping.
"All of the programs that have been proven to work, he has cut. All of the things that have not been proven to work, like stop-and-frisk, he's increased. Violence is not endemic to any community, nor is it a new phenomenon. Historically, other communities were provided positive alternatives to their youth to turn their lives around; our communities now need that same holistic approach," Williams said.
Williams attributed the aggression many youth have to being stopped by the police so much for no reason. He added that stop-and-frisk, in fact, causes an increase in violence because of the aggression that builds up in teens who are victims of the tactic used by police.