Huntsville, Ala., offers a taste of heaven on a plate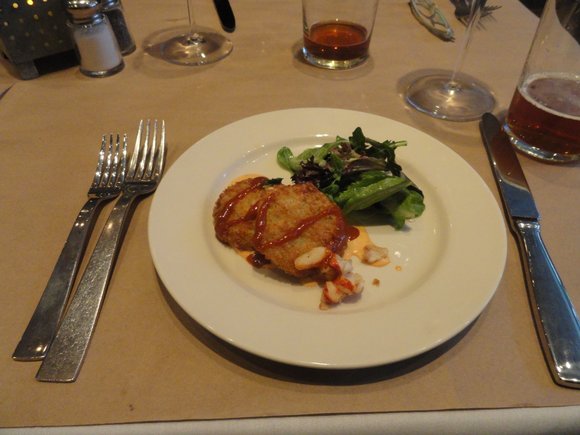 Well, we're four features in on my adventures in Northern Alabama as we celebrate "the Year of Alabama Food," and I'm still talking about the food--just in Huntsville! That's a testament to the great variety of eats the city has to offer for everyone and every palate.
From good ole homemade diner fare to some of the best Mexican food in the country, fresh, upscale steak and seafood offerings, unique, creative, community-focused farm-to-table offerings and everything in between, culinary adventures in Huntsville are, in a word, exceptional.
On our last night in the city, we did it up with a bang, enjoying an incredible, progressive dinner experience at three top-tier establishments owned by one of the country's most celebrated chefs, James Boyce. Although I am a self-described foodie willing to delve into most any gastronomic experience with open arms--actually, with open mouth and heart--I don't profess to know or keep up with the who's who of chefs. However, I do recognize the names of luxury establishments with the best of them, and know that anyone who enjoyed lengthy and illustrious stints at places like Le Cirque in New York, the Phoenician and Caesar's Palace in Las Vegas and Loews Coronado Bay Resort in Southern California must really be something.
When Boyce brought his talent to Huntsville, opening several superb, upscale dining experiences, he helped catapult the city to the forefront of some of the best gastronomic, A-List, travel and dining cities and restaurants in the country. But what endears him to his friends and growing clientele is an innate affinity for food and great dining experiences that go hand in hand with his humble, gracious, under-the-radar persona, which in my book is almost a more poignant condiment than anything one could serve on a table.
COMMERCE KITCHEN
We started our gourmet evening at Commerce Kitchen, named after the definition: "The exchange of goods and services from the point of production to the point of consumption to satisfy human wants," coupled with a desire to offer classic cuisine with turn-of-the-century-style ambiance--a nod to the historic structure in which the restaurant resides.
Offerings included items such as grits and grillades, braised beef; pan-fried goat cheese salad with almonds, cranberries and sherry vinaigrette; and lobster and corn chowder with brandied-jalapeno creme fraiche appetizers; and entrees like spice-rubbed steaks (rib eye, prime hanger and sirloin); blackened blue tilapia; a spinach, fried egg and smoked bacon salad; grilled loin of Duroc pork; chicken and wild mushroom gumbo; and herb-rubbed Atlantic salmon. The creative elegance and high-quality ingredients were a fantastic combination and what one would expect to find in a restaurant of this caliber in most American cities, and the pricing was very reasonable.
Unfortunately, we did not have dessert here, but I know that if I had the sweet tea and peach bread pudding with pecans and tea glaze, I could have died an extremely happy woman!
JAMES STEAKHOUSE
Next we strolled down the block to James Steakhouse, where we enjoyed a spectacular white tablecloth affair centering around premium, well-marbled Black Angus beef from source-verifiable, 100 percent raised and grazed U.S. cattle. The cuts--porterhouse, dry-aged-T-bone, New York strip, filet mignon and dry Kansas City cut--were simply seasoned with sea salt, coarse ground black pepper and grilled over a wood fire. Even non-steak eaters like me appreciated the supple texture, earthy bouquet and velvety taste of the meat raised and prepared with such love and care.