Huntsville, Ala., offers a taste of heaven on a plate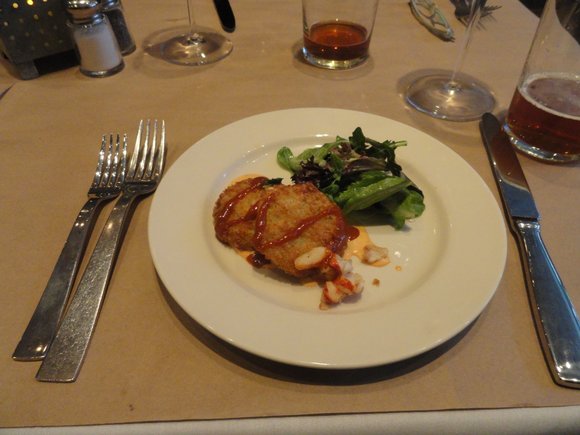 Menu offerings here encompass appetizers such as the steamed Prince Edward Island mussels with bacon, leeks and spinach; pork belly confit bruschetta with Sriracha cornbread and homemade chowchow; and chilled cucumber soup with cantaloupe consomme and pepper coulis. Main dishes encompass pan-seared pepper-crusted ahi tuna; red snapper risotto with saffron, grape tomatoes, shrimp, steamed mussels and lump crab; veal scallopine with lemon and capers, roasted garlic mashed potatoes, grilled asparagus, oyster mushrooms and brown butter; and braised lamb shank with horseradish mashed potatoes, roasted cippolini onions, wild mushrooms, carrots and gremolata, just to name a few.
Add any of their amazing sides--truffle sabayon (a frothy custard), herb parmesan risotto, sweet potato puree, green peppercorns and au gratin or sea salt baked potatoes, among others--and you have a dining experience made in heaven.
COTTON ROW
The piece de resistance was our last saunter of the evening to Cotton Row, set in a building along the cotton exchange built in 1821 and offering true Southern hospitality "inspired by the enduring passion of the cotton traders who once worked in downtown Huntsville."
The highlight here for special occasions is dining in the cellar, a cavernous yet intimate space that houses the restaurant's collection of nearly 5,000 bottles and 300 different selections of wine, which are expertly paired with your multicourse dinner.
Regardless of whether you dine in the cellar or in the delightful main dining room, the cuisine here is simply remarkable. Seasonal creations made with products of unsurpassed quality take center stage, so each time you come, you will find another new twist on a classic or a more contemporary dish. A cornmeal-crusted oyster salad or grilled hearts of romaine lettuce with chicken or shrimp are among the appetizer options.
Entrees ranged from a hot smoked Muscovy duck breast to crispy skinned gulf redfish, roasted white shrimp and orzo pasta, pan-seared North Carolina flounder, herb-crusted milk-fed veal chop or seared Maine diver sea scallops, just to name a few, with a dizzying array of accompaniments--Amish field bean cassoulet, baby tomatoes, collard greens, ramp cream sauce; bitter greens salad, summer squash, baby bok choy, green peppercorn sauce; green olives, confit tomato, herb garden pesto; or warm potato salad, watercress, oak-aged red wine vinaigrette and Florida rock shrimp risotto, summer ratatouille and smoked olive oil. Good God almighty! (Chef Boyce also owns Pane e Vino Pizzeria, which offers what he describes as "rustic-chic Italian fare" for the entire family.)
All told, it was an amazing evening and a fantastic first three-day start to celebrate "the Year of Alabama Food." There's much more coming up!
Resource list
Chef James Boyce: www.chefjamesboyce.com
Commerce Kitchen:(256) 382-6622,www.thecommercekitchen.com
Cotton Row:(256) 382-9500, www.cottonrowrestaurant.com
Huntsville/Madison County Convention & Visitors Bureau:(800) 843-0468, (256) 551-2230, www.huntsville.org
James Steakhouse:(256) 704-5555, www.jamessteakhouse.com
The Year of Alabama Food:www.yearofalabamafood.com