Black to class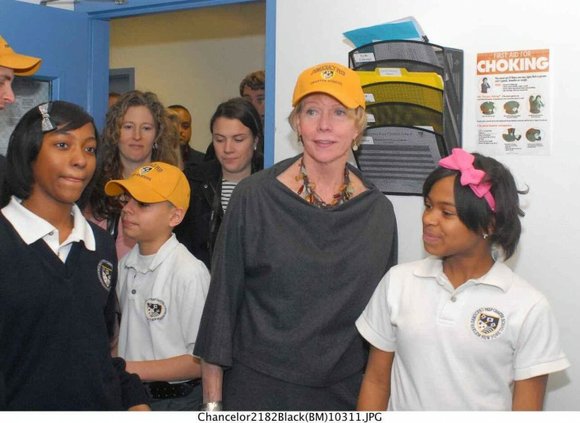 As public school students head back to the classroom after the holiday break, newly appointed New York City Schools Chancellor Cathie Black had her first day of school on Monday. The former publishing businesswoman-turned-education administrator spent the day touring one school in each of the five boroughs.
Surrounded by a barrage of media every step of the way, Black started her tour in Brooklyn at P.S. 262 El Hajj Malik El Shabazz School, where late activist Sonny Carson was heavily involved. Escorting her were Mayor Michael Bloomberg and Deputy Mayor of Education Dennis Walcott, as Black greeted students going back to class. One protester was on school grounds holding a sign that read "Black Must Go!"
At a press conference held at the school, Black said that since her appointment just over eight weeks, ago she has visited over 20 schools.
"I believe that my management experience is going to be an asset to the Department of Education and to our schools," she said. "Our kids have to succeed in a very complex and different world. I think we are off on a really great path. We must have the best school system in America."
Later in the day, Black visited North Queens Community High School, the High School for Dance and Violin in the Bronx, and Richard H. Hungerford School in Staten Island.
While in Manhattan, Black visited Democracy Prep Charter School in Harlem, where students gave her a tour. Black interacted with students and asked them questions about their academic and extracurricular involvement. She also observed students in math, reading and language classes.
"I'm very pro-charter school, I'm pro all choices and I'm pro-option," she said. "We've got 1.1 million children in this city to educate, so charter schools are one option. But we have to look at our other public schools and make them...as good as we possibly can."
Black added that as her tour went on, she was positive about what she saw in the schools, but said there is a lot of work that needs to be done and that every parent must be thinking that their "child deserves the best education they possibly can get."
Critics are already taking shots at Black on her first day, complaining that she didn't get a real picture of the crisis that the city's public schools face, and that she only went to schools that were high performing--Democracy Prep Charter School is considered to be one of the top rated schools in Harlem.
When asked by reporters about the types of schools she's been visiting, Black said she's been to all types of schools.
Monday's tour was a sign that Black's controversial appointment by Bloomberg in November is now a reality, despite continued opposition. Black took over the job from former Chancellor Joel Klein, who is taking a position at News Corp.
Public outcry, protests and legal battles immediately followed the announcement of Black's appointment because of her complete lack of educational experience. Protesters particularly highlighted the fact that she didn't have the necessary educational requirements and didn't even have a New York City public education herself. Her children did not receive a public education; in fact, they attended a boarding school in Connecticut.