Black to class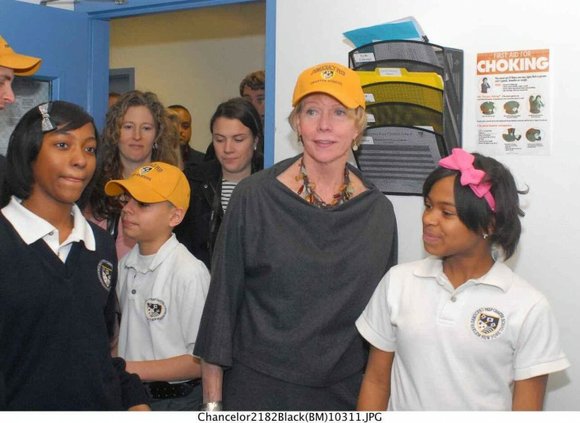 Black's lack of qualifications required her to obtain a waiver from the state's Department of Education commissioner in order to serve. In order for her to become chancellor, Black was forced to have a chief academic officer serve alongside her.
Efforts to prevent Black from serving were curtailed last week when the state Supreme Court upheld Black's waiver. In total, three separate Article 78 petitions challenging the waiver were filed and consolidated during the court hearing. However, the lawsuits weren't enough to keep Black out.
Last Wednesday, Judge Gerald Connolly of the Albany County Supreme Court denied the petitions submitted on behalf of 13 parent petitioners and one teacher challenging New York State Education Commissioner David Steiner's waiver of employment requirements for Black to become chancellor.
"The decision by Judge Connolly is extremely disappointing, but we will not throw in the towel with respect to the effort to improve our public schools system," said Assemblyman Hakeem Jefferies, who was one of the petitioners. "Cathie Black remains unqualified to be chancellor. We will make a determination about whether to appeal shortly."
Attorney Norman Siegel, who represented the petitioners, said his clients are "disappointed" with the court decision, and that they had hoped and anticipated a decision that would work in their favor.
"We believed that there would be a different outcome and that Ms. Black's waiver would not be allowed to stand," said Siegel. "I will be consulting with the parents and teacher to determine their next step."
"We will continue to fight this case in the courts," said attorney Roger Wareham, who represented several parents in the lawsuits. "All the attorneys will continue to work to ensure the voices of the people of New York City will be heard. We will be participating in community meetings throughout the city to update our people on each and every step of this process. But the most important aspect of this struggle is for everyone who is genuinely concerned and able to contribute, to come forward and engage. We must be vocal, active and in the streets of every borough now more than ever. Our children need us."