JAZZ NOTES: Jazz up your New Year's Eve
Ron Scott | 11/1/2012, 12:06 p.m.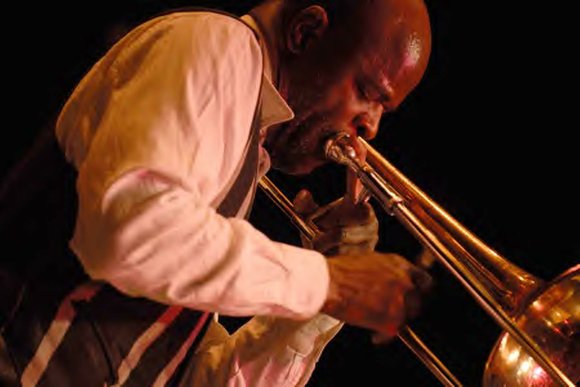 It's time to bring in a New Year with the traditional noisemakers and the singing of Auld Lang Syne, the lyrics written by Scotland's favorite poet Robert Burns. The song's message, as most know, relates to forgetting about the past and looking ahead to the new year with new hope and diligence.
Regardless of how this year may have ended, the New Year ahead offers new hope and prosperity for all those set to move ahead with diligence and a focused goal.
However, before you become totally focused on your new goals and resolutions for the New Year, you may want to party the night away. Listed below are places where you can let loose.
The New Year's celebration at the historical Showman's Cafe (375 West 125th Street) in Harlem jumps off at 9 p.m. and goes until 4 a.m. The price for couples is $100 and $55 for singles. The price includes a traditional dinner of pigs' feet, chicken, black eyed peas and collard greens, plus noisemakers and a midnight champagne toast. Music for the evening will include the James Farley Jazzmen featuring vocalist Inez Williams. For reservations call 212-864-8941.
The Lenox Lounge (288 Lenox Avenue), with its memorable zebra motif, will have two shows at 8:30 p.m. and 10:30 p.m., featuring Joey Morant Quartet with special guest vocalist Janicey Brar (known as Lady Day). The cover is $25, which includes a midnight champagne toast. After midnight there will be a DJ and dancing until the wee hours. Food is available at an extra cost. For reservations call 212-427-0253.
In Brooklyn, Sista's Place (456 Nostrand Avenue) will be swinging with trombonist Craig S. Harris and his band. Harris' reputation precedes him as a super jazz musician, but on this special night he may swing from jazz to R&B and funk. The price of $50 includes dinner, noisemakers and midnight champagne toast. There will be one set from 10 p.m. to 2 a.m. For reservations call (718) 398-1766.
A unique experience awaits on New Year's Eve at the Nuyorican Poets Cafe on the Lower East Side of Manhattan (236 East 3rd Street, between Avenues B and C), featuring YERBABUENA. The happenings begin at 9 p.m., advanced tickets are $25. A visit to the Nuyorican Cafe is always exciting and mind-blowing. For more information call 212-505-8183.
At the Jazz Standard (116 East 27th Street at Park Avenue South), you can party with Dr. Lonnie Smith on his trusty Hammond B-3 organ. Smith will not be playing in his usual trio format, but will be stretching out with the premiere of his big band. Here's a group that Dr. Smith's fans have been awaiting for years! Some of the finest younger players on the scene fill the ranks of this exciting big band, including saxophonists John Ellis and Logan Richardson, trumpeter Keyon Harrold and flutist Anne Drummond. The main man of the B-3 is known for his thrilling, roof-raising, foot-stomping playing; now add a big band, WOW! The first set begins at 7:30 p.m., the admission of $125 includes the show and a three-course dinner (Blue Smoke Barbecue), beverage not included. The second set at 10:30 p.m. is $195, which includes a three-course dinner and a midnight champagne toast. For reservations call 212-576-2232.