Q&A with Mellissa Harris-Perry, the new face on MSNBC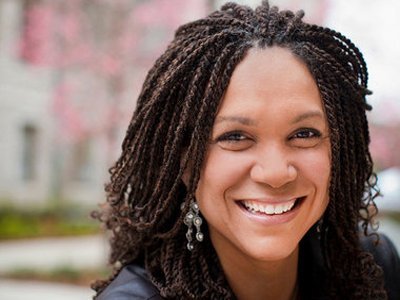 This weekend, there will be a new woman on the block-or at least you'll get to see her a whole lot more. On Feb. 4, MSNBC announced in a press release: "MSNBC contributor Melissa Harris-Perry is the latest addition to MSNBC's expanding weekend lineup...Harris-Perry's new program will continue MSNBC's trend of bringing intelligent, informed voices to the cable channel's weekend programming."
Harris-Perry is a columnist for The Nation magazine, a professor of political science at Tulane University, the founding director of the Anna Julia Cooper Project on Gender, Race, and Politics in the South at Tulane's Newcomb College Institute and a celebrated author whose new book, "Sister Citizen: Shame, Stereotypes and Black Women in America," examines the effects of persistent harmful stereotypes on Black women's politics.
In 2009, Harris-Perry became the youngest scholar to deliver the W.E.B. Du Bois Lectures at Harvard University, as well as the youngest woman ever to deliver the prestigious Ware Lecture.
On Saturday, Feb. 18, her self-titled show will debut at 10 a.m. on MSNBC. Harris-Perry spoke with the Amsterdam News to talk about her new show, juggling her many projects and being a Black woman on TV.
Amsterdam News: How is planning for the new show going? Are you all set to air?
Melissa Harris-Perry: It will always be live, but we are having rehearsals every Saturday and Sunday as though we were on air. We're putting the shows together just like the comedy shows do; we're booking guests, writing scripts, writing questions all as though we're on air, although we're not. It feels like we are in the second week of our show already.
AmNews: What's the main focus of the show? Mostly political or mostly racial?
MHP: It's definitely going to be a political show. It will be driven by the news that will have happened over the course of the week. The nice thing about the weekend show is that we're not driven by the daily news cycle-it means we can breathe, we have some power to decide what's important, we don't have to report every single story that happens. We can take our time to cover three or four topics in depth instead of needing to do about seven.
Although it's not a show about race-look, I'm a professor of African-American politics, so we're going to be talking about race. I'm a feminist, so we're going to be talking about gender. I'm a parent, so we're going to be talking about kids and young people. I live in the South, so we're going to talk about politics beyond the D.C.-to-New-York corridor. It's a political show but it definitely has a point of view.
AmNews: Do you have full editorial control over the content?
MHP: There is certainly no MSNBC person standing over us. I hired a fantastic staff whose own interests and research and writing I greatly respect, so I listen to all of them, from my executive producers down to my production assistant. Everybody is pitching ideas and everybody is engaged in figuring things out. We just had a conversation about the president's announcement about the housing settlement, and everyone in the world is thinking about how covering it. Everyone is going to be part of this.