Sandy spares Harlem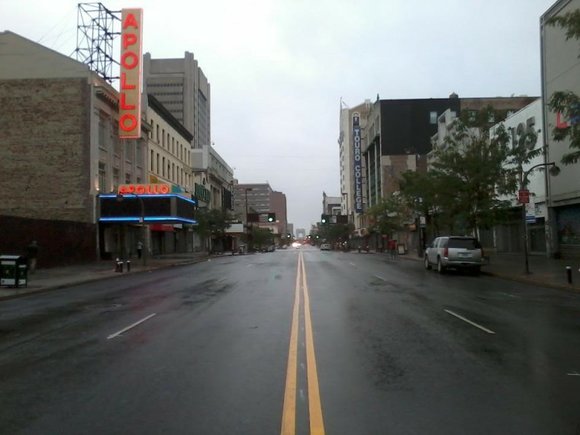 Compared to the rest of the Eastern Seaboard, especially New Jersey, Hurricane Sandy was only a casual visitor to Harlem. Other than the Hudson River breach at 125th Street, the legendary community remained virtually unscathed.
To be sure, the neighborhoods were littered with debris, mainly twigs, branches and tons of leaves. And there was an occasional split tree, one nearly smashing a car on Riverside Drive.
Along Amsterdam and Broadway, several stores had their awnings and canopies ripped and mangled, but the damage was minor.
Around midnight, after Sandy had quelled--though the high winds remained constant until midmorning--there was very little traffic. The only folks on the streets were there out of utter necessity: walking their dogs.
One of eeriest scenes was the carless lanes of the West Side Highway, which often floods during heavy rains.
Perhaps the most damaged site on Sugar Hill was at 141st Street and Convent Avenue, where half of a scaffold was blown completely from its moorings atop a construction site; of course, nothing like the dangling crane on 57th Street.
Harlemites with roof gardens were among those hit hardest by the hurricane, and at three locations huge flowerpots rumbled around like objects in a pinball machine or bumper cars at the fair. One roof divider was torn and tattered, with little hope for repair.
What remains of the storm is the cleanup, and fortunately the garbage trucks had come earlier and emptied the corner containers before the storm, though many of them were found yards from their normal place.
But other than ubiquitous piles of leaves, the cleanup should move quickly and efficiently. The biggest problem now is how the residents are going to get to work or back to school.
These complaints pale in comparison to the fires in Queens, the floods in New Jersey and the number of fatalities left in Sandy's wake.