Paul Deo wins Corner Social mural competition
11/2/2012, 12:08 p.m.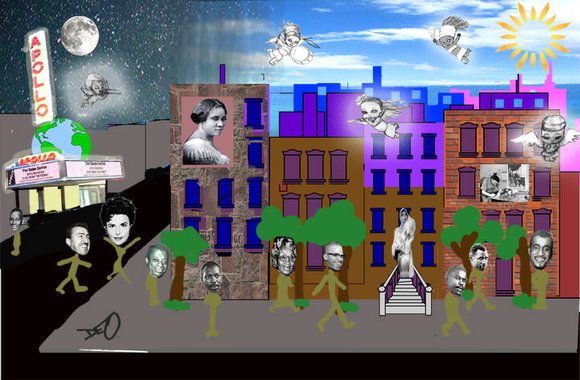 HARLEM, NEW YORK, November 2, 2012...The corner at 126th and Lenox will become even more iconic with a new, large outdoor mural portraying the great legacy of arts and culture for which Harlem is so widely known. Corner Social teamed up with Harlem Arts Alliance to find the candidate who had the ability to fuse the vast history of Harlem and art to show the support and gratitude that Corner Social has for the neighborhood. The mural, expected to be unveiled on November 27, 2012, will be painted by Paul Deo, a local artist who has had his work displayed in New York, New Orleans, and Los Angeles since 1993.
"We want to embrace Harlem's legacy and selected an artist who has the ability to create a visual that can be related to by all of Harlem," says Anahi Angelone, Co-owner of Corner Social. "We feel as though Deo's work celebrates the vibrant and historical aura that Harlem possesses. This work of art will not only aid in the revival of Harlem, but it will help bring the people of Harlem together with the universal language of art."
Deo's mural outside Corner Social Restaurant will portray Harlem's family neighborhood by day, and entertainment by night. The mural will be painted in the collagist style of Romare Bearden and feature the inspirational figures Madame CJ Walker, Josephine Baker, Malcolm X, Maya Angelou, and many more. The Apollo Theater will be the concentration for Harlem's night scenery, while famous enthusiasts of Harlem's legacy create the tight knit neighborhood by day. Deo's mural will combine the history, culture, and one of the many landmarks of Harlem. "My hope is that all residents old and new, visitors, and tourists never forget Harlem's culture and global influence in the arts, science, sports, humanities, politics, and business," says Deo.
Corner Social, in collaboration with Harlem Arts Alliance, aimed to find an artist to create this historical work of art. Corner Social's Co-owner, Anahi Angelone, wanted the mural to unite the community. "When people walk past the mural, they will know they had a part in deciding that it was there, making a mark in Harlem's history." A panel of esteemed judges consisted of 8 votes, plus one public vote. Bevy Smith, Michael Feeney, Sherri Shepherd, Vy Higginsen, Chef Alexander Smalls, Willie Walker, Anahi Angelone, and Kim George were amongst the panel. Together, they were able to select an artist that captured so many of the characteristics of Harlem that the neighborhood prides itself in.