Dismay, despair and donations for Hurricane Sandy victims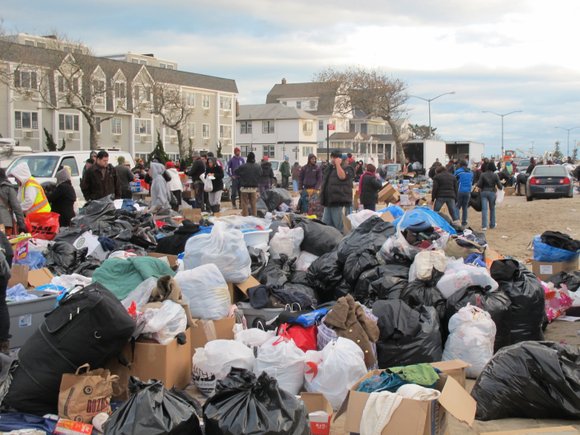 "They did this by going door to door within the projects, up and down the stairs, back and forth, for days. As you can imagine, this was no small feat. They brought in the assistance of Occupy Wall Street, Doctors Without Borders and a host of others to ensure the well being, health and safety of the residents of Rockaway."
Full disclosure, Skinner is Taylor's "proud mother."
Taylor told the paper that since Hurricane Sandy, his youth group has "been going door to door to see if seniors and the disabled in high rise developments are OK and delivering water, toiletries and everyday essentials. We have been to over 250 residents in over 30 buildings, walking to the top floor--some went as high 19 stories."
His organization, with young people from 16 to 29 years old, has about 45 members, but only eight stayed because the Rockaway peninsula was told to evacuate.
"But we made up the numbers because of volunteers," said Taylor. "We put out a request and a lot of volunteers came from all over the city to donate their time and supplies. One woman said if it wasn't for us, she didn't know how she would get food. The elevator was not working, and her phone was not working."
Taylor said that most of the households finally have electricity. "But some of our members still have no electricity, so they are still in shelters."
There is nary a New Yorker who has not been affected by Hurricane Sandy, be it the loss of heat, power or water; the scarcity of gas, limiting travel; the one-week closure of all schools when the hurricane touched down; or the stopping of the subway and over-ground trains along with the HOV and bridge and tunnel closures. The impact was universal.
Some suffered much more than others. Homes were swept away or collapsed. Some of the missing are still unaccounted for, leading to the prediction that the tristate body count of 43 will increase as the days and weeks go by.
Gov. Andrew Cuomo issued threats about reviewing the Con Ed state contract, as for days leading into weeks, those without lights kept asking when power would return. References to "Katrina," "the Ninth Ward " and "Third World" punctuated many interviews.
Hospitals were evacuated, schools taken over as shelters, and hospitals and churches were pressed into service as volunteer headquarters.
As part of their progress report released on Tuesday, Nov. 13, NYCHA told the AmNews that power has been restored to around 99 percent of all buildings affected by Sandy. "Yesterday, electricity, heat and hot water returned to 16 buildings housing approximately 3,513 residents in Brooklyn, Queens and Manhattan developments, including Red Hook East, Red Hook West, O'Dwyer Gardens, Lower East Side Rehab, and Surfside Gardens and Redfern developments, where all buildings now have power
"The New York City Housing Authority continues to restore power, heat and hot water to developments currently without service due to the storm. During the past week, NYCHA has returned heat and hot water to many buildings across the city and is working with the utility companies and other government agencies to restore these essential services to every NYCHA resident as quickly as possible."