City's, NYCHA door-to-door campaigns late or non-existant after Hurricane Sandy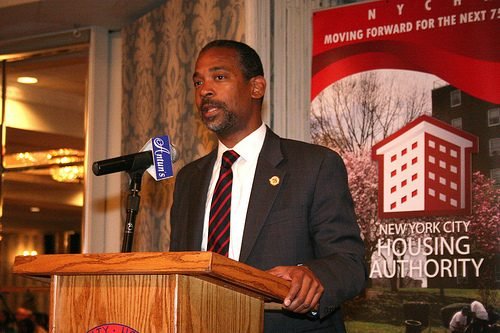 Browsing through the large stacks of report-back sheets from People's Relief volunteers in Coney Island, it was clear that food, safety, health and other life-threatening issues were still being faced almost two weeks after Hurricane Sandy knocked out power and flooded much of the area.
One building report read, "FEMA told canvassers not to go in because of methane build-up, residents unaware of this." Methane is an explosive gas known to leak from landfills or to form when fecal mater decomposes.
Another report mentioned a man in need of insulin--"Ran out 2 days ago." Another said residents are worried about an elderly homebound neighbor who has not answered the door in days.
Coney Island resident Taneen Watkins said she found out about the People's Relief distribution of supplies in the area through word of mouth. Though she's a mother of five whose home was flooded by 11 feet of water during Sandy, she volunteered on Sunday at a church at 2828 Neptune St.
"You stay home, you're not going to hear anything. I come outside, so that's how I hear everything, she said."
But for homebound senior citizens, people with disabilities or people living on the top floors of high-rise apartment buildings without power, going outside was--and in some cases still is--much harder than it seems. In many cases, it's simply impossible.
"Every day, we have been going into the buildings, and every day the medics have found people whoneed serious medical attention," said Adrien Weibgen, an organizer with People's Relief, an impromptu group of civilian volunteers who started working in Coney Island on Nov. 4. "The city, NYCHA, nobody has been doing door-to-door checks at all.
"In terms of somebody taking responsibility to regularly check on residents, this entire time, this has absolutely not been done by the city, or NYCHA or the Red Cross or even FEMA. Personally, I don't think a ragtag group of volunteers should be coordinating door-to-door checks to make sure people are not dying."
But while many grassroots relief organizers and residents told the Amsterdam News that government-led relief efforts, the Red Cross, FEMA and NYCHA have not been present in providing relief, officials have continuously said they are indeed doing so.
Directly following the hurricane, the city set up warming centers and many shelters throughout affected areas. FEMA and the Red Cross also had food and supply trucks driving through affected areas, although many residents say they could not get down to the street level to reach them.
Earlier this week, Mayor Michael Bloomberg Launched NYC Restore, a comprehensive new initiative to provide one-stop locations for city recovery services and federal disaster relief. In a press release, the city details an in-depth door-to-door campaign.
On Nov. 9, City Housing Authority Chairman John Rhea said, "Volunteers were critical to this effort. We organized those volunteers, and when people called and offered to go directly to our buildings, we coordinated them through the NYC Service corps effort so that again it could be done in an organized way and with safety for both the volunteer and the resident."