City's, NYCHA door-to-door campaigns late or non-existant after Hurricane Sandy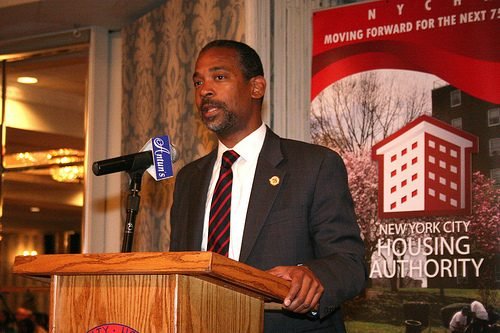 City press releases, 311 and city officials point to NYC Service as a big part of the city's relief efforts and a way that civilians can volunteer. NYC Service is a citywide initiative launched by Bloomberg in April of 2009 to "help more New Yorkers connect to service opportunities more easily, target volunteers to address the city's greatest needs and promote service as a core part of what it means to be a citizen of the greatest city in the world," according to its website. So it appears the city is very organized in its relief and volunteer efforts.
But if they can find a tiny link in the center of the NYC.gov homepage, would-be volunteers are directed to nycservice.org. A search on NYC service brings up various links to community groups doing hunger relief but no canvassing or door knocking opportunities for volunteers to plug in to. After a call to NYC Services, would-be volunteers would then find out that "New York Cares is taking volunteers on to do these things, and you can actually go to their website, which is nycares.org, and look to see what projects are open, but you have to register with them, not New York Service."
While Rhea said on Nov. 9 that NYCHA had already set up "door-knocking campaigns throughout those buildings with a particular focus on residents who have some form of disability or who might be challenged," Samantha Levine, a representative from Bloomberg's office, said the city only started sending out medical door-to-door teams on Friday, Nov. 9, 11 days after Sandy hit and the same day Rhea spoke to the Amsterdam News.
"Medical teams (including a paramedics, members of the National Guard and members of the Health Department) going door to door in the high-rises in Coney Island and Rockaways to assess and provide medical care and medication to those without power. It began this past Friday," Levin wrote in an email on Tuesday, Nov, 13. A press release from the mayor's office on Tuesday explains the extent of this work, saying that thus far, the door-knocking teams had reached 18,365 buildings and visited more than 6,500 residents.
That effort came far later than many grassroots groups that did the same thing. At the Gowanus Houses in Brooklyn, the power went off in five buildings on Oct. 29, and community members say they came together to help themselves. Families United for Racial and Economic Equality (FUREE), a group that organizes low-income families to "build power to change the system," helped residents take over a usually unused community center to create a coordinated relief effort to get every person in Gowanus Houses food, water, blankets and medicine in the wake of the storm. They say they did all of this without any help from a government agency.
"That Sunday [November 4], officials from NYCHA came in to sit down and have a talk with us to find out what we were doing, how we were making the efforts and to make sure that NYCHA residents were quote/unquote safe, because they didn't know the impact of five buildings being out," said Beverly Corbin, a FUREE board member who lives just a block away from Gowanus. "They told us they were going to send people from FEMA in to help, that they were going to offer us social work for our children who were devastated. But none of that was done."