Obama: Reflections and resolutions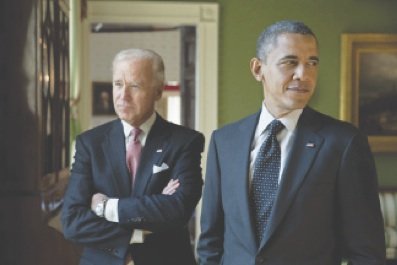 As President Barack Obama wrestles with political lemmings and the so-called "fiscal cliff," he finds himself under a unique microscope that simultaneously examines his recent record of the last four years while making predictions and demands for the next four.
"I believe we need to allow President Obama a breath of fresh air after a grueling election campaign--the result of which nobody on the Republican side thought he would win, given the economic condition in the country. Yet he did win in a landslide," said Chika A. Onyeani, publisher and editor-in-chief of the African Sun Times. "Now that it is over, we need to be constructively engaged in articulating our needs and making suggestions on how they could be fulfilled, not the type of jingoistic, meaningless outbursts of envious 'nattering nabobs of negativism,' as late William Safire put it, that professor Cornel West and Tavis Smiley exemplify."
Just under a month after his historic re-election, here comes the analyzing and the partisan proselytizing, perhaps poignantly coined up by the Loop 21 headline "President Obama, What Have You Done for Me Lately?"
Writer Lisa A. Armstrong asks the question whether the African-American community feels that the president has neglected them. She bases the question on an anti-Obama ad run on BET sponsored by conservative super PAC Pivot Point, where two Black folks slam the president for supporting gay marriage and cutting aid to Black colleges.
Wayne Perryman, the Black minister in charge of church administration for Mt. Calvary Christian Center Church of God in Christ in Washington state, helped create the ad.
Perryman is also the author of "Whites, Blacks & Racist Democracy: The Untold History of Race and Politics Within the Democratic Party from 1792-2009," and "Unveiling the Whole Truth," in which he makes such interesting statements as "Bush: a true friend of Blacks and the poor."
The reverend had proclaimed that Blacks should not go out and vote for Obama based on his Blackness since he had done little to earn that loyalty by not addressing issues specific to the Black community.
"Our communities are in deplorable condition. Sometimes I watch TV and weep. African-Americans are so loyal to a party and a Black man that they ignore the condition of their people," was one of Perryman's reported comments. "Everyone had hope that with this first Black president, our issues would be addressed, but [Obama] blatantly turned against specific things that Blacks had requested."
Looking at major issues such as unemployment, the disproportionate incarceration of Black people in the prison-industrial complex, education and poverty, Armstrong stated, "unemployment figures dropped to 7.8 percent in September--that number is 13.4 percent for Blacks. Twenty-eight percent of African-Americans live in poverty, compared to 10 percent of whites. More than 900,000 Black men are incarcerated, and African-Americans are more likely to attend high-poverty schools and less likely than any other group to attend college."
The writer added, however, that Obama has not been lagging in efforts to improve the lot of Black folks. For example, she noted that in February 2010, he signed an executive order granting $850 million in funding over the next 10 years for Historically Black Colleges and Universities, and in July 2012, he established the White House Initiative on Educational Excellence for African-Americans.