A prosperous 50th to legendary DJ Marley Marl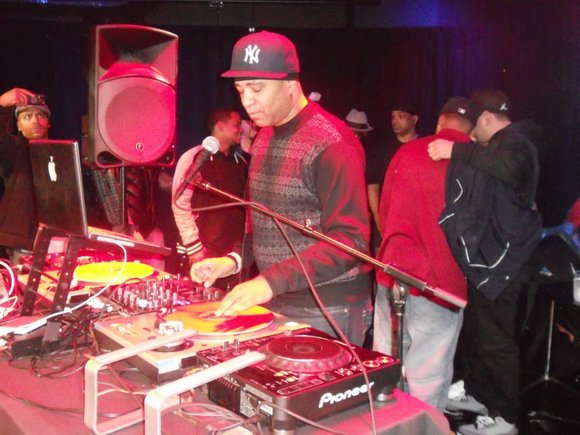 "Hangin' pictures on my wall / Every Saturday, Rap Attack, Mr. Magic, Marley Marl," Biggie Smalls reflected on 1994's "Juicy."
As one of hip-hop's most influential individuals, Marley Marl is responsible for exposing the urban art form to millions who had never previously heard the raw street sounds.
Whether as an imaginative cut-creating DJ, a record-breaking radio host, an innovative music producer or a cutting-edge studio owner/record label head, Marley has influenced many. Hip-hop's first super-producer revolutionized how music was created by introducing ingenious sampling techniques.
Marley was born Sept. 30, 1962, in Queens, coming of age in L.I.C.'s vast Queensbridge Houses. The youth deejayed local spots, eventually meeting up with singer/musician Edwin Birdsong, who'd help mentor his music career.
In 1981 he joined "Mr. Magic's Disco Showcase" on WHBI, the first show on mainstream radio devoted exclusively to hip-hop. The following summer they established "Rap Attack" at WBLS, remaining on air for seven years. The duo helped validate hip-hop, establishing its presence on radio in the world's number-one market.
"I done stuffed tissue in the top of a tape just to record Marley Marl," Fame spits on "Follow Instructions," from M.O.P.'s 2000 album "Warriors."
The raw, gritty sounds heard primarily in the concrete jungle were now blaring over NYC's airwaves. Many remember anxiously awaiting to record the next exclusive live in-studio freestyles by some of the most prolific MCs ever. Many of those cassettes have circulated the globe.
"Hip-hop was up in the Bronx, Marley was on the radio," recalls music producer Norman Glover, a.k.a. DJ Witch Doctor. "They broke a lot of new acts and took the urban sound and blasted it for all five boroughs."
Producing tracks for numerous artists, Marley eventually broke through with 1984's "Roxanne's Revenge," with protege Roxanne Shante. The following year his production of MC Shan's "The Bridge" revolutionized how hip-hop music was created.
"Wasn't nobody doing tracks like that," explains DJ Lord Yoda X of Harlem's legendary Crash Crew. "Marley came in and flipped it--it was totally different, the fullness."
Marley helped usher in hip-hop's first new-school era by introducing the technique of "chopping drums," which is now common in music production/sampling.
"I just wanted to be different," the pioneer answered when asked what motivated him to create his inventive technique.
"He was ahead of his time," determined Witch Doctor. "A lot of things people weren't doing until Marley started it."
Marley composed the initial music tracks for some of hip-hop's elite lyricists: Rakim, Big Daddy Kane and Kool G Rap. Mr. Magic denying KRS-One inclusion into the Juice Crew sparked the legendary rivalry. The in-demand re-mixer laid down original tracks for Biz Markie, Master Ace, Craig G and LL Cool J.
"My crew got juice like Marley Marl," Timbaland bragged on Aaliyah's "Are You That Somebody?" in 1998.
"By introducing one of the premier mega-crews, their contributions alone changed the game," professed DJ Yoda.