2011, with a PUNCH!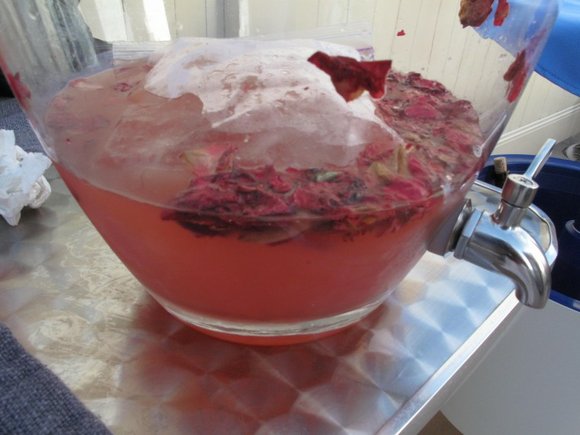 1 large lemon, thinly sliced
Pomegranate seeds
Fresh mint leaves
1 ice block
Bring 1/2 cup water and sugar to boil in small saucepan, stirring until sugar dissolves. Simmer 5 minutes. Cool syrup completely.
Combine Champagne, rum and pomegranate juice in punch bowl. Add enough syrup to sweeten to taste. Mix in lemon slices, pomegranate seeds and mint leaves. Add ice block to bowl.
Drink responsibly please!
Before I sign off of 2010, I must offer a fond food farewell to a few foodies that made this world a better place. Farewell to Morrie Yoxai, creator of the bodega favorite and neon-orange-fingered children and adults everywhere, Cheese Doodles. And to Glen Bell, the founder of the Mexican fast food chain and, for me, the final location of a drunken night in Atlanta, circa 1991, Taco Bell. Finally, to musician, entrepreneur and pork lover Jimmy Dean, whose product was used by millions of Americans making their holiday stuffing/dressing. Thank you for all of your hard work!
Happy New Year's, everyone! To more adventures in food in 2011...cheers!
Enjoy, get eating and thanks for reading!
Follow me on Twitter @SCHOPgirl.
Questions at dinnertime? Chat with me at AskSCHOP, Monday through Friday, 6-8 p.m.
Kysha Harris is owner of SCHOP! SCHOP! is available for weekly service or for home entertaining. Questions? Comments? Requests? Feedback? kysha@iSCHOP.com.