Bow to Bao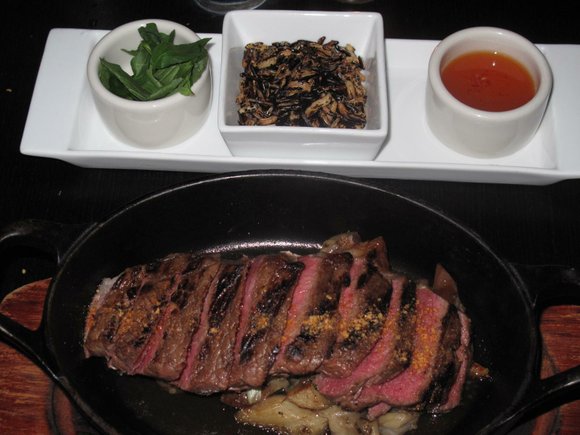 Alert the media! (...Wait, I am the media.) I am taking a break from food for a spell to get myself back on track, get some perspective and re-appreciate all that the New York food world has to offer. Translation: I am getting older, it is all catching up with me and I need to cleanse, rinse and repeat. So I will be taking you on a sensory journey for the next couple of weeks as I stroll down recent memory lane.
First up is my annual pre-Thanksgiving dinner with my high school girlfriends, accompanied by spouses/significant others. It is our break and respite from all of the turkey planning. The cuisine is Italian or Asian. Last year, we went to Chinatown for duck. This year, we continued our Asian theme uptown at an old favorite that is new again.
Formally called Rain, the reinvented space went from Pan Asian to Vietnamese in the beat of a chopstick. A change of the seating, light fixtures and textiles and, voila, we were at Bar Bao (100 West 82nd Street, 212.501.0776, www.barbaonyc.com).
It was a rainy night and traffic was crazy with rubbernecking due to the massive balloons being blown up a block away. We waited at the bar for the crew to arrive. My stomach was ready to get to it. And get to it we did.
We started with some delicious cocktails. I had the Dharma Punk with cucumber vodka, lychee and lime juices. Simple, crisp and different. Must add to the summer cocktail list. It really prepared the palette for the meal. This is where the food-blur starts...
The best part of this big meal was that we all got to taste a lot of different dishes. We started with a big amount of Bar Bao's small plates: spicy beef salad with pomelo, pineapple, chilies, and rau ram herbs; spring rolls with pork, shrimp, jicama, and nuoc cham sauce; short rib on lemongrass skewers with hoisin peanut sauce; baby lamb lollipops with jalapeno pesto and mizuna greens; sizzling cuttlefish with spicy Vietnamese salsa verde; and fried squid with a spicy Asian remoulade sauce.
Of this lot, I adored the cuttlefish, the beef salad and the spring rolls. The cuttlefish could have been a meal in itself, with the Asian water greens and large pieces of scallion in it. The beef salad was spicy, sweet and flavorful in all of the right places in your mouth. And the spring rolls were uniquely crispy and packed with ingredients only made better by the sauce.
On to the big plates now...I remember seeing crispy Berkshire pork belly with taro, shishito peppers and kimchi spring ramps. Jessica had the mustard-glazed duck breast with handmade herb noodles and Chinese chives. Nnenna had the pan-seared market fish with glass noodles, shiitakes, Chinese celery and ginger-soy broth. Raquel, Kate and I split the grilled Black Angus strip steak with Asian eggplant, crispy rice and spicy ginger sauce and the vegetable Saigon noodles with soft tofu, Asian eggplant, pea shoots, king oyster mushrooms and black bean ginger sauce.