Dreams of August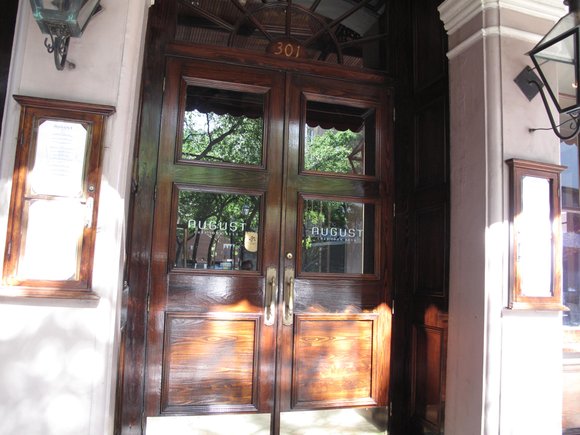 Then our appetizers arrived. Most of us had the handmade potato gnocchi tossed with blue crab and truffle. (I invite you to read that again so you can appreciate every element of that seemingly simple yet decadent dish.) Every bite was perfect, perfect, perfect.
For our entrees, Raquel and I shared red fish with Louisiana crab, white shrimp and toasted almonds and sauce mousseline and pan-roasted sablefish with truffled potato, winter vegetables and a whipped hollandaise. The red fish was true New Orleans flavor personified. The sablefish ate like a steak dinner.
Basta! No more! But dessert? Okay, we ordered two to share, but pastry chef Kelly Fields had other plans for us...like the whole dessert menu. Highlights for me were the two strawberry dishes (shortcake, panna cotta), as we were in the height of the Ponchatoula strawberry season. I also loved the banana rum cake with cream cheese icing and the most beautiful plate of fresh ambrosia (house-made marshmallows) with citrus hinted by lemongrass with creme fraiche and meyer lemon sorbet. The seven plates were empty in less than 10 minutes.
Post-dinner we were invited into the kitchen to meet Chef de Cuisine Michael Gulotta and the team. They welcomed us with thunderous applause, perhaps because we ate like champs. We returned the applause for their diligent and impassioned talent then held in our distended stomachs to take pictures.
Thank you, chefs and team of August, for a most memorable food experience. You have been added to my "Best Meal Ever" list, the first in perhaps three years. I will be visiting some of your other restaurants on my next visit too.
And to my girls...women...ladies...happy birthday to you. Like any year, your day is just a marker in time of what you have done and what remains to be achieved. Here is to the next 40 years with you. Turns out it's not that complex...I love you!
Enjoy, get eating and thanks for reading!
Follow me on Twitter @SCHOPgirl.
Questions at dinnertime? Chat with me at AskSCHOP, Monday through Friday, 6-8 p.m.
Kysha Harris is owner of SCHOP! which is available for weekly service or for home entertaining. Questions? Comments? Requests? Feedback? Email kysha@iSCHOP.com.