Five stars for Five Leaves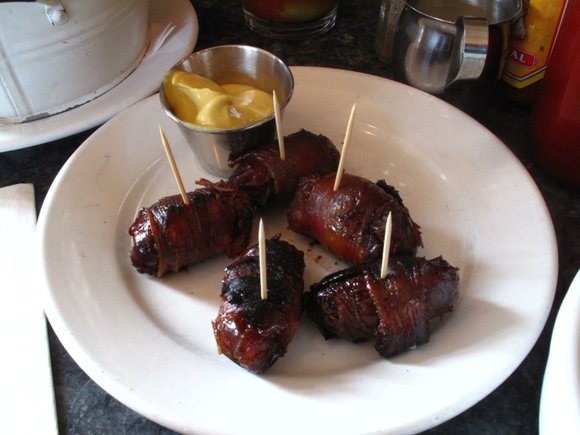 We might have been able to stop at this point, but for our mains we ordered the special of beer-battered fish and chips, and the roasted beet and blood orange salad with arugula, macadamia nuts and goat's milk yogurt ($12). The former was "official!" Perfectly beer battered and fried cod, and the chips were crunchy, seasoned and good.
Ironically, the salad was the overkill dish. We should have had it as a starter. Those mussels were a hard act to follow. Of course, we ate it, but I don't think we gave it its best opportunity to shine.
Jason was done, but I HAD to at least look at the dessert menu. What was I thinking?! The kaffir lime panna cotta caught my eye initially, but I opted for the affogato ($7), which is an Italian dessert of vanilla ice cream topped with a shot or two of espresso coffee. It couldn't be anything less than delicious at Five Leaves.
Affogato is a simple and an easy lay-up dessert at your next dinner party for anyone that needs a coffee at the end of a great meal. I am not normally an espresso drinker, so on the ride home I was full as all get out and wired to boot. Not necessarily the best combo.
Five Leaves, thank you for a wonderful first experience. If I lived closer, I would be there more often. I do know we need to return for dinner and some of your interesting cocktails...and that panna cotta.
Enjoy, get eating and thanks for reading!
Questions at dinnertime? Chat with me at AskSCHOP, Monday through Friday, 6-8 p.m.
Kysha Harris is owner of SCHOP! SCHOP! is available for weekly service or for home entertaining. Questions? Comments? Requests? Feedback? E-mail kysha@iSCHOP.com.