For those looking for picturesque fall foliage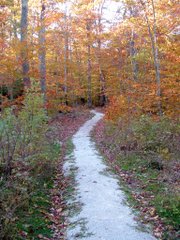 Fall is by far my favorite season of the year; it's when Mother Nature bestows upon us a burst of seasonal hues--auburn, crimson, jade, gold and other passionate colors--in stunning arrays that highlight America's tremendous hillsides, mountaintops, canyons, valleys and more. It's the outdoors at its best!
So as we move into this fall season, be sure to take the time to stop and "smell the foliage" along the way. Following are a few distinctive regions in which to enjoy a colorful fall sojourn.
New York
The Empire State offers a wealth of exciting and inspiring places in which to enjoy the fall foliage. On Long Island, you'll find over 200 miles of hiking trails bursting with color. Among them are Cedar Island Lighthouse in East Hampton, Muttontown Preserve in East Norwich, Wildwood State Park in Wading River, Jayne's Hill--the island's highest peak with an elevation of 400 feet--at West Hills County Park in Huntington and Connetquot River State Park in Oakdale.
In the Hudson Valley, colorful fall escapades can be found all over the Adirondack Mountains and the Catskills, as well as in the Northern Finger Lakes region. Do some leaf peeping in Harriman or Bear Mountain State Parks, as well as along the Shawangunk Mountains Scenic Byway. www.nyfallfoliage.com
North Carolina
Recognized by some as America's most visited national park, Great Smoky Mountain National Park, which straddles the border between North Carolina and Tennessee, offers spectacular fall color due to the heavily forested ridges brimming with Sumac, Dogwood and other tree species, in addition to a bounty of fall wildflowers.
The North Carolina mountain areas in general also offer autumn treats for the senses, including along the Blue Ridge Parkway, the 88-mile section of the 300-mile-long Appalachian Trail within the state and in the Central Mountains encompassing Asheville. www.visitnc.com/journeys/highlights/nc-mountains
Texas
The Lone Star State is very popular with those desiring to enjoy autumn at its finest. Divergent hues of the season are front and center at Davis Mountains State Park in West Texas with its wealth of hiking trails and scenic drives, some of which connect with Fort Davis National Historic Site.
Inspiring fall exploration can also be found at Caprock Canyons in Quitaque, at Lost Maples State Natural Area in Vanderpool, in East Texas at Daingerfield and at Palo Duro Canyon State Park, "The Grand Canyon of Texas," in Canyon, Texas. www.tpwd.state.tx.us/spdest/parkinfo/seasonal/foliage
Washington State
How about checking out the fall colors along the freshwater shoreline on the Columbia River at the 5,100-acre Beacon Rock State Park, located 35 miles east of Vancouver, Wash.? Or if the Cascades are more your thing, you'll find a vast diversity of ecology teeming with autumn hues in North Cascades National Park, an alpine landscape just three hours from Seattle.
Alternatively, scenic fall beauty is one of the highlights of the enormous--1,312,000 acres including the 110,000-acre Mount St. Helens National Volcanic Monument-- Gifford Pinchot National Forest in southwest Washington. www.parks.wa.gov/parks
Indiana
Both residents and visitors alike come alive while experiencing the beautiful foliage that fall brings in numerous places throughout the Hoosier State. One of the most popular is the Ohio River Scenic Byway in the Hoosier National Forest, which also traverses neighboring Ohio and Illinois. Meandering through quaint historic towns like Newburgh and Vevay, the 303-mile scenic tour also encompasses Clifty Falls State Park in Madison.