Fresh air food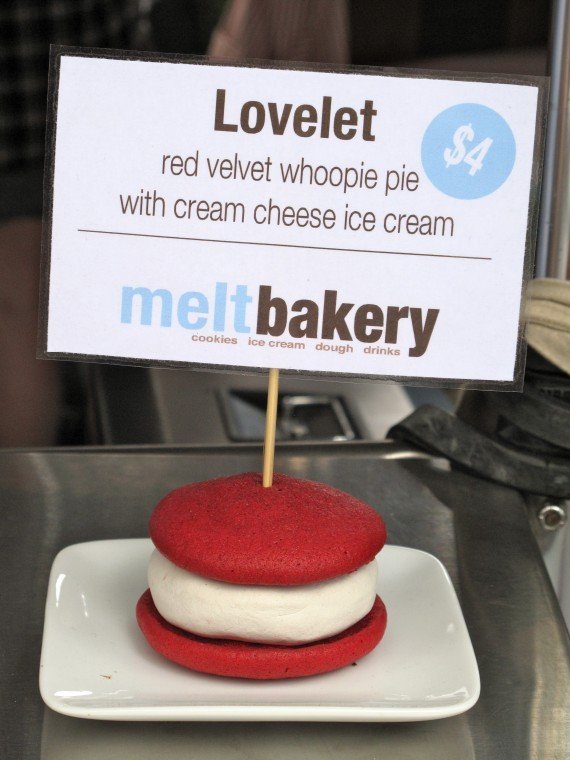 Two weekends ago was the first Saturday of the Hester Street Fair (Hester and Essex streets, www.hesterstreetfair.com). It is a tiny weekly street fair celebrating the uniqueness of the Lower East Side. There are vendors selling food, crafts and vintage items while a live band plays some funky music. It runs through the end of October, but I wanted to jump on it early so I could bring my findings to you.
That Saturday started with my usual morning movie with Raquel ($6 before noon at any AMC theater) and trolling the Upper West Side. Knowing that we both had to be at an event in Chinatown by 6 p.m., we debated adding another trip to the LES, but the thought of experiencing something new won out.
With a quick ride on the D train to Grand Street and a short walk across Hester Street, we were there. Not the largest space to have a street fair--in fact, if you don't like lines or crowds, this might not be the place for you--but if you love a new food experience every weekend, then you just might want to suck it up and go.
As per our modus operandi, we surveyed most of the food offerings before making our decision. We passed up the unique flavored ice pops from La Newyorkina, the large sourdough pretzels from Sigmund Pretzel Shop, the lobster pot pie from Luke's Lobster (really?!) and the Vietnamese pho and bahn mi from An Choi (since we were going to have dim sum that night). We did taste the some divine chai tea caramel, though.
For our savory bites, we chose a chicken-and-fontina-cheese-stuffed arancini (breaded and fried risotto balls) from Arancini Bros. and pork and beef meatballs with African onion and jalapeno jelly from Mighty Balls. The lines were vicious for both, as the food was made fresh, but everyone was very respectful and patient.
The arancini was hot, creamy, cheesy, savory decadence that should be eaten in abundance, but we tempered ourselves with a serving of the meatballs. The pork with the sweet and hot pepper jelly was our favorite. I will give the meatball mavens another chance on the slightly undercooked beef, as it was their first day in business.
For the sweet shot, we hit up Melt Bakery's ice cream sandwich cart. We settled on a traditional chocolate chip cookie and vanilla bean sandwich only because we couldn't wait for the red velvet whoopee pie and cream cheese ice cream sandwich. It has now become my raison d'etre for my next visit.
And just as we were walking out of the gate, it caught my eye. There it was...the s'mores pie from First Prize Pies. Buttery graham cracker crust filled with milk chocolate ganache and topped with handmade toasted marshmallow fluff. Wrap it up! It was everything promised and then some in a single serving. Dare I buy a full pie next time? Stay tuned...
So this weekend I invite you outside to taste New York City. There is always something happening. In fact, here are two events this weekend that you need to attend.