Summer salad sizzles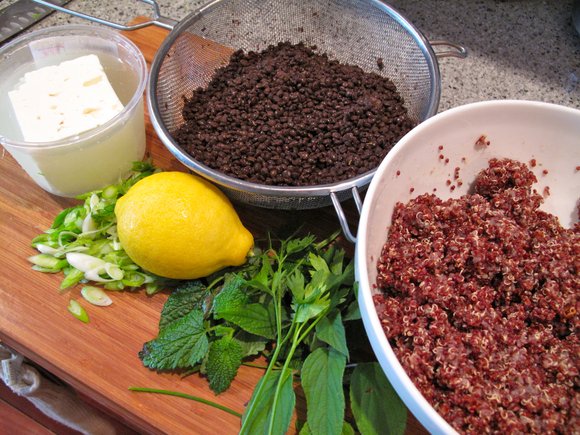 It's officially here! Happy summer to all! Have you begun to thrust your summer plans into action yet? Did you flip your first burger or pucker over a glass of lemonade? Don't wait, it will be over before you know it.
I've begun to envision what I want my summer to be. The blueprint includes friends and laughter, bright-colored shorts and orange toenails, Ray-Ban sunglasses and bike riding, weekends away and grilled meals, fresh berries and stone fruit and plenty of easy, breezy salads.
Yes, salad! The great thing about a salad is that it can be made of anything your heart desires, with only limited cooking. You can go traditional or try different combinations of your favorite ingredients and see where you land.
First, there are a couple of rules I would suggest you follow when preparing any salad:
1. Greens and herbs. There are many different varieties of both that can add flavor and texture to your salad. Try adding whole leaves of flat-leaf parsley to your next salad for an earthy brightness. Use kale, collards, mustard or beet greens for a more hearty green in your salad.
2. Starch-potatoes, pasta, grains. Slightly undercook these so the salad will keep some of its integrity and texture and stand up to reheating (if called for).
3. Acids-tomatoes, citrus, vinegar. Acids break down foods so try not to let these items sit too long in your salad if they are not integral to the recipe. For instance, if you are making a green salad with cut tomatoes, leave them out until you serve it. If you are making a tomato salad, obviously you can't.
4. Dressing. Save some money and get creative! No need for those high calorie, mystery ingredient, over-priced dressings. The base of a good simple dressing is acid (i.e. vinegar, citrus juice), oil (i.e. olive, vegetable) and sometimes an emulsifier (i.e. mustard, egg yolk) that brings the two repelling ingredients together, if only for a stolen moment. Make extra for the next salad.
5. Balance. Whether a first course, a side dish or a complete meal, a salad is the simplest opportunity to achieve some equilibrium between tastes (sweet, sour, salty, bitter) and textures of ingredients and dressing. Add a few nuts for crunch, cold mango for sweetness or olives for salt.
One of my favorite summer salads is mesclun greens with cold mango, ripe Hass avocado, thinly sliced red onion, marinated grilled chicken breast, pungent Gorgonzola cheese and honey mustard vinaigrette. Pair that with some warm crusty bread, sweet cream butter and a bottle of Vinho Verde, and I am in heaven. Balance...balance...
I also love replacing lettuce with kale, though its preparation is not as simple as washing and eating. This is a salad where acid is one of the essential ingredients that will break down the cellular walls of the greens. The other ingredient? Warm hands.
In a large salad bowl, I prepare a simple vinaigrette-red wine vinegar, olive oil, minced garlic, salt, pepper and Dijon mustard. To that I add thinly sliced red onion and fennel. I then add de-stemmed, torn, washed and spun-dried kale on top. With clean hands I massage the kale until it becomes bright green (the dressing will be tinted green as well), as if it had been steamed, for 15 minutes or so. You can chill it if you like, but I just add some tomatoes and cucumbers and enjoy.