Summer salad sizzles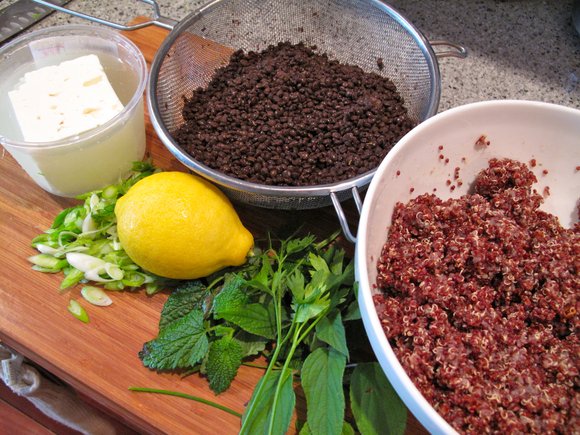 One of my emerging new favorite creations is a red quinoa and beluga lentil salad. It is a nutrient-dense salad packed with protein and fiber that can be eaten hot, warm or cold and mixed with traditional salad ingredients to make a complete meal.
For this salad I use the undercooking technique so each of the main components holds its own. I cook the quinoa and lentils separately using the same method, with chicken stock (or you can use vegetable), a bay leaf and one chile de Arbol (you can use crushed red pepper). Remove from the pots and let cool separately.
I use the quinoa as the base and fold in the desired amount of beluga lentils. To that I add sliced scallions, fresh oregano and flat-leaf parsley, lemon zest and juice, crumbled sheep's milk feta and a good fruity olive oil. Season to taste with salt and freshly cracked black pepper. It is ready to be eaten right away or you can chill it for later.
I make a complete meal out of this salad by using it as a base for a chopped salad, laid over some greens. Accompanying this with some grilled chicken or shrimp would be lovely too.
Now I could go on...what about the chipotle, corn and black bean salad, or the cold Asian spinach and sesame salad...oooo, or the rosemary cranberry chicken salad? YES! Or the...
I hope you will give some of these salads a try. Follow the rules as best as you can and start creating some salad magic this summer. And let me know what happens.
Enjoy, get eating and thanks for reading!
Follow me on Twitter @SCHOPgirl.
Questions at dinnertime? Chat with me at AskSCHOP, Monday through Friday, 6-8 p.m.
Kysha Harris is owner of SCHOP! which is available for weekly service or for home entertaining. Questions? Comments? Requests? Feedback? Email kysha@iSCHOP.com.