Taxi workers claim livelihood threatened by MTBOT lawsuit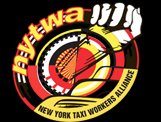 According to the Taxi Workers Alliance, the Metropolitan Taxicab Board of Trade (MTBOT) is allegedly attempting to use the courts to undercut taxi drivers' rights and livelihoods. The alliance said that MTBOT is attempting to deny protection to drivers from taxi agents who lease medallions and finance vehicle purchases at what they feel are "exorbitant" rates.
The MTBOT and the Greater New York Taxi Association (GNYTA) both filed lawsuits against the New York City Taxi & Limousine Commission (TLC) in order to stop the new rules from taking effect, which would raise fares by 17 percent, implement new rules to stop garages for overcharging, provide a first-time lease cap for brokers and create the first-ever health and disability fund for taxi drivers.
Back in July, as part of the fare raise, the TLC also voted to regulate how much an agent can charge drivers in the same way they regulate how much a fleet can charge a driver. According to the alliance, if the lease that's paid to the fleet or agent isn't capped, then an increase in fares doesn't trickle down.
"Thousands of taxi drivers have been in desperate need of this new lease cap," said TWA Executive Director Bhairavi Desai in a statement. "For years, agents have raised the lease on drivers, charging arbitrary amounts in excess of $10,000 by simply mislabeling them as non-TLC-regulated 'vehicle related expenses.'"
According to the TWA, drivers have been paying $60,000 for $30,000 vehicles.
"After decades of being outside the law, the TLC passed historic regulation to make it clear that agents cannot use vehicle financing to evade the maximum cap on how much an agent can charge a driver for a medallion lease," said Desai. "Finally, the TLC closed the loophole that had allowed this one segment in the industry to be the only one to remain outside of regulation in the TLC's 41-year history. Taxi drivers, at the behest of this unregulated segment, will have rights for the first time.
"We are resolved to win our long struggle for economic fairness in the taxi industry and the full implementation of the TLC's new historic lease cap regulations being applied to protect every single taxi driver in the city of New York," continued Desai. "Justice may have been delayed, but we hold faith that, in the end, it will not be denied."