South Africa pays tribute to legendary photographer Alf Kumalo
10/24/2012, 1:32 p.m.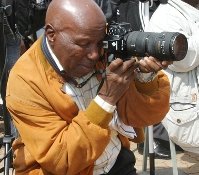 Oct. 23 (GIN) - A self-taught photographer who captured the 1976 student uprising, the state of emergency during the 1980s, the unbanning of the liberation movements and the inauguration of South Africa's first democratic government among a host of other events, Alf Kumalo had a life well-lived and a career which spanned over more than 50 years.
Kumalo passed away on Oct. 21 from renal failure. He was 82.
"Alf Kumalo was more than a documentary photo journalist, he was, above all, one of South Africa's eminent historians," said former President Thabo Mbeki. "No one could contradict the truth of what he captured so competently through the lens."
Born in Alexandra, Kumalo made his name as a photographer for Drum, Bantu World, and Golden City Post where he provided the international community with evidence of the brutality of apartheid.
Ten years ago, Kumalo opened a photographic museum and institute at his former house in Soweto to share his photographic skills with young South Africans.
"The ANC and the people of South Africa are forever indebted to Alf Kumalo for being at their service and striving to expose a system that was inhuman," said ANC spokesperson Jackson Mthembu on behalf of the party.
The Nelson Mandela family wrote: "We are saddened by the death of son, brother and uncle, Alf Kumalo. May his soul rest in peace."
Kumalo's work can be viewed through January 2013 at the International Center of Photography in their current exhibit: Rise and Fall of Apartheid: Photography and the Bureaucracy of Everyday Life.