For Teachers: Mary Ann Shadd Cary, 'The Rebel'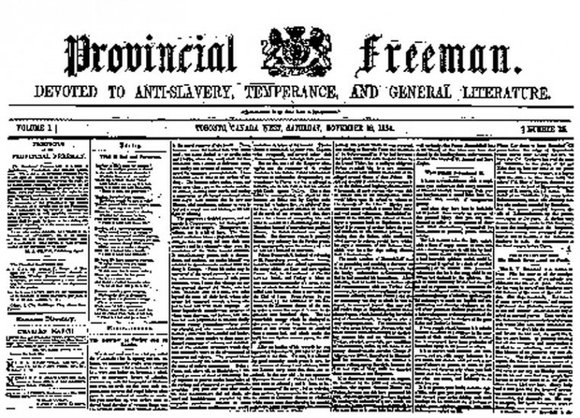 In 1856, Shadd married Thomas F. Cary of Toronto. The couple had two children, Sarah and Linton. The family lived in Chatham, where Mary worked at her paper and taught school. Thomas Cary died in 1860.
The Provincial Freeman suspended operations for a time but was revived with relocated offices. Publication continued for the next few years until the paper became beset with financial problems and was forced to close for good with issue No. 49, on Aug. 22, 1857.
In 1858, famed abolitionist John Brown held a secret convention at the home of Shadd's brother Isaac, which raised her concerns for the anti-slavery movement. In 1861, she published "Voice From Harper's Ferry" in tribute to Brown's ill-fated raid.
After the folding of her newspaper and the death of her husband, Shadd returned to the United States with her children, settling in Washington, D.C. She began recruiting Black officers for the Union Army. She continued to promote Black Nationalism and educate Black children.
In 1869, when her youngest child was 9 years old, she enrolled at Howard University Law School. After 13 years of teaching school in the day and attending classes at night, at age 60, she became the nation's second Black female to earn a law degree, graduating in 1870.
Shadd continued to lecture and write for other newspapers. She joined the National Women's Suffrage Association, working with Susan B. Anthony and Elizabeth Cady Stanton. She testified before the Judiciary Committee of the House of Representatives and became the first Black woman to cast a vote in a national election.
The remarkable pioneer died in Washington, D.C., on June 5, 1893, after suffering with stomach cancer. Her daughter, Sarah, was still living. Her son, Linton, had died the previous year. Her obituary described her as "a woman of excellent traits of character and loved by all who knew her."
The Mary Ann Shadd Cary House, located at 1421 W Street in Washington, D.C., was declared a National Historic Landmark in 1976. Shadd Cary was also honored in Canada with the designation of a "Person of National Historic Significance."
Activities
Look It Up: Use the Internet and other reference sources to learn more about the life and work of Mary Ann Shadd Cary. Discover more about the events detailed in "This Week in Black History." Discuss these events with your classmates.
Talk About It: Check out the website listed below and read articles that appeared in The Provincial Freeman. Break up into groups to read and discuss each one. To see select articles from The Provincial Freeman, go to http://utc.iath.virgini
Write It Down: Write an article that you would have liked to see in The Provincial Freeman. Remember to relate your article to what was happening in Black America at the time.
This Week in Black History
Oct. 22, 1906: Three thousand Blacks demonstrated and rioted against a theatrical presentation of Thomas Dixon's controversial novel "The Clansman."
Oct. 25, 1958: Ten thousand students, led by labor leader A. Phillip Randolph, actor and activist Harry Belafonte and baseball great Jackie Robinson, converged on Washington, marching from Constitution Avenue to the Lincoln Memorial in the 1958 Youth March for Integrated Schools.
Oct. 28, 1798: Levi Coffin, the founder of the Underground Railroad, is born.