Singer, Dwele Learns from His Mistakes; a New TV Network Launches
Souleo | 9/5/2012, 1:45 p.m.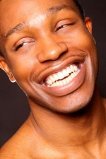 Dodson also aims to promote emerging talent, many of whom are also in Harlem. "We wanted to get fresh new faces for UBC because there is so much talent that never gets seen and never gets in the door. I want to change that with this network."
For visual artists seeking to change the odds of success in their favor, owner and director of Causey Contemporary gallery, Tracy Causey-Jeffery recommends gallery representation. "Gallery representation gives you more credibility with art world collectors and curators than going it alone." When seeking representation, Causey-Jeffery advises not to sign an exclusive agreement with your first option. "Ask them to help you find galleries in other cities or countries who would be willing to represent you as well. The more people in different places working on your team the better." Of course before entering any partnership an agreement in writing is essential and Causey-Jeffery notes that artists can find great samples here, here and here.
Now, there's a great way to start avoiding a few mistakes.
The Harlem Arts Alliance is a not for profit arts service organization celebrating 10 years of service to a prestigious list of members such as the Apollo Theater, the Greater Harlem Chamber of Commerce, Columbia University, Harlem Stage (Aaron Davis Hall) and over 850 more cultural/arts institutions and individuals. The weekly column, Harlem Arts Alliance Presents: On the "A" w/Souleo, covers the intersection of the arts, culture and entertainment scene in Harlem and beyond and is written by Souleo, founder and president of event/media content production company, Souleo Enterprises, LLC.