Stars, celebrities gathering for sports extravaganza
9/7/2012, 1:20 p.m.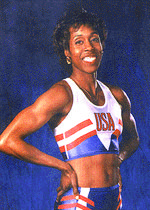 The Joetta Clark Diggs Sports Foundation Inc. will host its seventh annual sports extravaganza on Friday, Sept. 14 at the Bridgewater Marriott Hotel in Bridgewater, N.J. Diggs is a four-time U.S. Olympian (1988, 1992, 1996, 2000) who was ranked among the top 800-meter runners in the country for over 20 years. The theme for this year's sports extravaganza is "Down Memory Lane."
Honorees include Mark Breland, 1984 Olympic gold medalist, five-time Golden Gloves champ and former world welterweight champ; and Bruce Harper, former New York Jets running back, kick returner supreme and the Jets' 1980 MVP.
Legendary Negro Leagues pitcher Pedro Sierra, a seven-time world champion and All-Star game MVP, will be honored as well, along with National Track & Field Hall of Famer inductee Jearl Miles Clark, a five-time U.S. Olympian and the still reigning 800 meters American record holder.
The Olympians and athletes will be honored for their work on and off their respective playing fields. The honorees will join a number of celebrated athletes who will participate in the sports extravaganza.
Recording artist and Broadway Tony nominee Elisabeth Withers will also join the cast of celebrities at the affair. Her albums, "It Can Happen to Anyone" and "No Regrets," continue to light up audiences. Withers is a vibrant and electrifying performer. She continues to receive accolades for her memorable portrayal as Shug Avery in the original Broadway cast of "The Color Purple."
The Joetta Clark Diggs Foundation conducts and provides health, financial and fitness seminars, track camps, fitness challenges and other programs to grade schools, high schools and community organizations. Individuals can be a sponsor. One can also donate a dinner ticket back to the organization to provide an opportunity for boys and girls from across the state who otherwise would not be able to attend.
The Joetta Clark Diggs Sports Foundation, founded by Diggs, is a community-based nonprofit 501(c)(3) organization whose mission is to promote involvement in athletics for girls and boys ages K-12. The foundation is committed to teaching good health, financial responsibility and positive work ethics.
"These characteristics can be developed by participating in sports and physical activities," noted Diggs. "The foundation introduces boys and girls to the various sports career opportunities that are in this industry.
"The influences on our youth with regard to attitude, beliefs and behaviors are very difficult to overcome, including the areas of fitness and health," said Diggs, who leads a Through Head 2 Toe Fitness Program. "We turn the message around so that our youth are exposed to healthy lifestyles."
For educational scholarship information, event info or to make reservations, call 484-851-3148.