Shoes, food and fitness coming to 125th St., Frederick Douglass Blv.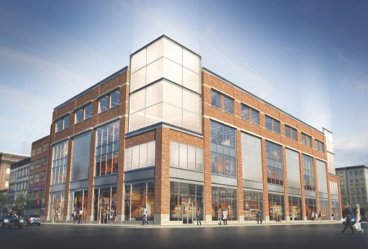 As development continues across Harlem, several projects are progressing, bringing more big-box stores and chain restaurants to the neighborhood. One of the most significant projects is occurring at 301-303 125th Street and Frederick Douglass Boulevard.
A site once occupied by a KFC, an urban clothing store and more famously Bobby's Happy House music store is now going to be filled by a four-story 100,000-square-foot development that will house DSW discount shoe store, Blink Fitness and Manhattan's first-ever Joe's Crab Shack restaurant.
Expected to be finished by mid-2013, DSW will take up the second and third floors, totaling 32,000 square feet, after signing a 10-year lease. Blink Fitness, a more budget-friendly version of the highbrow Equinox Fitness, took a 15-year lease and will take up 16,000 square feet. Signing a 10-year lease, Joe's Crab Shack will take up two floors, totaling 11,000 square feet.
The building is a joint development between Aurora Capital, ASH Acquisitions and the Sigfeld Group. The asking rent is a reported $150 per square foot. The building comes as the announcement of seafood chain Red Lobster builds a new location just steps away on 125th Street next door to the Apollo Theater.
Jared Epstein of Aurora Capital told the AmNews that the corner is desirable and that Harlem is starting to attract chain retailers.
"It's a dynamic retail neighborhood that has some national retail chains ... but there is a lot of room for growth," he said. "There's a tremendous amount of foot traffic and the corner is close to subways, buses and colleges and community residents. It has all of the right components, and that's what national retailers look for. They are excited to come to the Harlem market."
Preparations are underway for the upcoming opening scheduled later this month of My Image Studios (MIST) at 40 W. 116th St., between Malcolm X Boulevard and Fifth Avenue, on the ground floor of the Kalahari. The $21 million, 20,000-square-foot arts, dining and entertainment center will celebrate Black and Latino culture and serve as a space for established and up-and-coming film and musical artists.
"This is a very exciting time for MIST. Our investors have understood our vision, which is to create a cultural center reflective of the diversity and history that has and continues to breathe life into Harlem," said Roland Laird, CEO of My Image Studios LLC. "The renaissance in Harlem rages on, and we are ecstatic that MIST will be a part of it."
The entertainment center will feature three performance spaces with a total of 344 seats, post-production facilities for digital media and a state-of-the-art 7,000-square-foot restaurant and lounge with both indoor and outdoor seating. Entertainment options will include live music, spoken word and comedic and theatrical performances.
There will also be screenings of domestic and international feature films and documentaries centered on multicultural narratives and a 130-seat restaurant featuring African, Caribbean and Latin American cuisine.
"It will truly be a place of discovery for exciting entertainment offerings from all over the world," Laird said. "MIST Harlem will truly be a cultural diamond for all of New York City."