New York remembers 9/11- 10 years later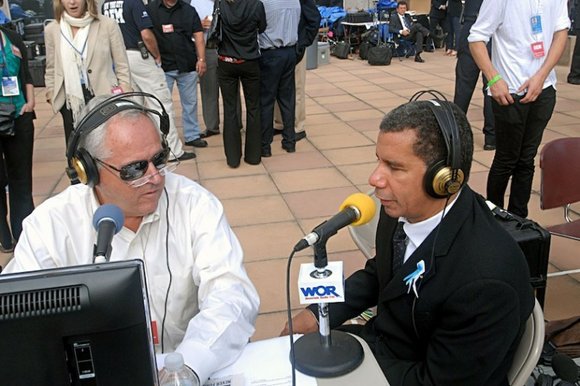 The bravery of the first responders goes without saying. The courage was boundless; the scars are still self-evident. Asked how they are doing, Batista had a quizzical look. "Are you OK?" he repeated. "Some of us are OK, but certain things are a trigger."
At 8:46 a.m., during the first moment of silence, this reporter noticed a security guard standing stoically with a single tear rolling down his cheek.
Not wanting to be intrusive, this reporter asked Ronald Gabriel what his memories were.
"I was thinking about all the innocent people who lost their lives from all over the world, including some from my country, Haiti. And I knew two people who died here. It could have been any of us. It is very tragic."
Back on scene below, bomb-sniffing hounds paced the plaza with their handlers as Yo-Yo Ma delivered a somber background while thousands of names were read by relatives of the deceased.
Noted by journalists gathered was the cheer Bush got when he approached the podium and when he left. Curiously, it was nothing compared to the polite acknowledgement that the actual president, Obama, had received moments before.
Former Gov. David Paterson spoke to the paper before he was interviewed on WOR radio. He spoke of the sadness of the day and the strength of the families, but he bemoaned how mainstream media still managed to exclude Blacks from their general coverage, including the degree to which Black folks were killed or acted as first responders. That is why, he said, he is doing his new radio show.
"Today is, of course, one of remembrance, but sadly, even with this tragedy, there is division," said Paterson. "With the demise of Black talk radio, our issues are not being heard, and that is why I am doing my radio show on WOR-to talk about what is going on in the Black community."
There were indeed very few Black journalists on the rooftop, and to be sure, much of the mainstream media failed last week to include Black voices or faces in their reporting. One program on the History Channel ran an hour and a half show, speaking to many families and individuals who lost people when the towers collapsed, without one single Black person interviewed.
Meanwhile, Councilman Charles Barron said people must really analyze what is going on. "While we mourn the loss of the 3,000 people who died in 9/11, the U.S. government is engaged in a number of wars and actions that are killing thousands of soldiers and civilians," he said. "The push for Libya right now is a conflict we should not be involved in, yet we are planning to kill hundreds if not thousands more to oust their leader, Muammar Gadhafi. You cannot condemn terrorism while you terrorize innocent people yourself."