More models of color are working at Fashion Week
Amity Paye | 9/19/2012, 4:24 p.m.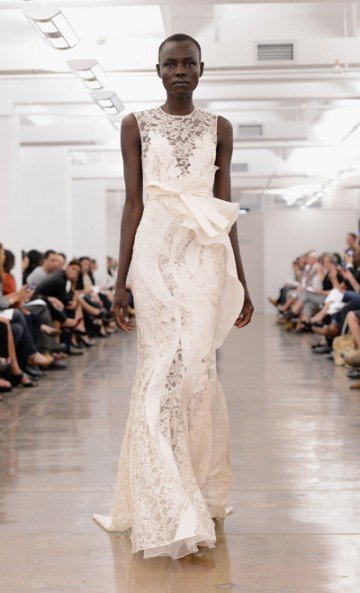 Jezebel did took a comprehensive look at the 143 shows at New York Fashion Week's Spring-Summer 2013 season shows and presentations that took place earlier this month and found that there has been a growth in the number of models of color on the runways
This year had many more shows than in previous years, there were a mere 116 shows in 2008.
"As NYFW has grown, so has awareness of the problems that models of color can face in the industry," writes Jenna Saunders in her article for Jezebel. "This season, 143 designers presented some 4708 individual women's wear "looks" to buyers and press during the eight days of fashion week. 3736 of those looks, or 79.4%, were given to white models. Again this season, the second largest ethnic group on the runway at fashion week was Asians -- Asian models got 476, or 10.1% of all the runway looks. Black models nabbed 383, or 8.1%. Non-white Latina models had 88 looks, or 1.9%. And models of other races wore 25, or 0.5% of all looks. Click on any chart in this post to enlarge."
Top black models:
Cora Emmanuel, 17 shows
Joan Smalls, 14 shows
Marihenny Rivera Pasible, 11 shows
Ajak Deng, 10 shows
Grace Mahary, 10 shows
Jasmine Tookes, 10 shows
Grace Bol, 9 shows
Ataui Deng, 8 shows
Jeneil Williams, 8 shows
Brands with no models of color:
Araks, Brood
Calvin Klein
Elizabeth & James
Louise Goldin
MM6 Maison Martin Margiela
See by Chloe
The Row
For full story:jezebel.com
For full study:www.scribd.com