Keith David, Roy T. Anderson living their dreams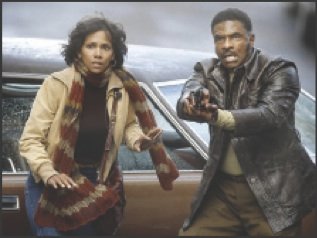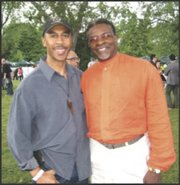 "It was a dream job," Keith David commented during a telephone conversation from his Los Angeles home. "Every time an actor gets a chance to work is a dream. I'm living my dream."
Currently cast in the Andy and Lana Wachowski and Tom Twyker film "Cloud Atlas," starring Halle Berry and Tom Hanks, David is on cloud nine. "I got to travel the world," he shared, disclosing the locations for the film adapted from David Mitchell's novel. "I got to travel to Spain, Glasgow, Berlin. I got to experience all of this," said David, who recently returned from the Toronto International Film Festival following the premiere of "Cloud Atlas."
"I got to experience it all! I got to work with some wonderful actors who I have respected for years and who made it real," he said, alluding to his co-stars, some whom play multiple roles in the purported $100 million independent film. Among the actors are Jim Sturgess, David Gyasi, Jim Broadbent, Ben Wishaw, Hugh Grant, Doona Bae and Susan Sarandon.
"It does not matter how big the actor is--it's just about the work," David commented about the "Cloud Atlas" compilation of stories, which spans several centuries from the mid-1800s to the mid-2100s. "The storytelling is brilliant! It was very well-received at the Toronto International Film Festival--standing ovation," concluded the Harlem-born actor, who has worked in an estimated 200 films.
While in Toronto, David snagged one of the hottest tickets in town, the Canadian Film Center's annual barbecue, where he met the Caribbean-American stuntman Roy T. Anderson, who is making his film debut as director/producer/writer of the applauded documentary "Akwantu: The Journey."
"I was so lucky to meet one of my favorite actors there, Mr. Keith David," Anderson said. "I was basically in Toronto to promote my film," explained Anderson, who grew up in Toronto after immigrating from Jamaica and subsequently enjoying a lucrative career as a stuntman doubling for the likes of Will Smith and Jamie Foxx and working on such blockbuster hits as "Spiderman" and "Batman."
"Akwantu: The Journey" unveils Anderson's quest to find out about his Maroon ancestry. This journey takes him from his U.S. home base back to Jamaica and then to Africa's Gold Coast.
"Akwantu: The Journey" will have its Canadian premiere Oct. 7 at the TIFF Bell Lightbox as part of the Jamaica 50 (Independence Anniversary) Film Showcase.
"They'll be screening iconic films like 'The Harder They Come,' 'Dancehall Queen,' 'The Lunatic' and the new Marley documentary," Anderson divulged. "I'm definitely honored to be in that mix."
Anderson further revealed: "At the barbecue, I ran into many of my friends in the industry, and they're really excited about my film. They've followed my progress as a stuntman and stunt coordinator, and now as filmmaker, they are very curious to see what I have to offer. The buzz is definitely there. I made sure to tell Mr. Keith David about "Akwantu." I felt it would resonate with him, seeing that he has roots in the Caribbean."
The ever-so-humble Anderson concluded: "He was very supportive. I hope he'll get a chance to see my film soon."