Amsterdam News in the classroom: John B. Russwurm and Freedom's Journal, the first Black newspaper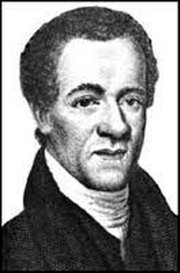 Today's page takes a look at the first Black newspaper, which was founded by one of the first Blacks to graduate from college, John Brown Russwurm.
Russwurm was born in Port Antonio, Jamaica, on Oct. 1, 1799. Not much is known about his mother except that she was most likely Jamaican. His father was an American merchant of German descent.
Russwurm lived in Jamaica until around 1 807 and received elementary schooling before being sent to school in Quebec, Canada. By 1812, father and son were in Portland, Maine, and Russwurm's father had a new wife, Susan Blanchard.
Russwurm's new stepmother insisted that he be given his father's surname, thus John Brown became John Brown Russwurm.
The next leg of his education came at Maine's Hebron Academy, where he earned the nickname "Honest John" for his good nature and dedication to his studies. Russwurm continued his education at Bowdoin College in Brunswick, Maine. He joined the Athenaeans, the first college fraternity to admit a Black student. He graduated in 1826 with a bachelor's degree. He received a master's degree three years later, but for decades, he remained the first and only Black graduate at Bowdoin, outside of the medical department.
After Bowdoin, Russwurm came to New York City, quickly settling into the circle of free and educated Black people. He was bright, articulate and dedicated to the freedom struggle. When the time came to create a newspaper solely dedicated to the concerns of Black people, Russwurm was a perfect choice to run it.
Freedom's Journal
"We wish to plead our own cause, too long have others spoken for us."
The mission of the newspaper was simple. It countered the pro-slavery white press; it encouraged Blacks to improve their lives through hard work and education; it showcased successful Blacks while always abhorring slavery and other crimes against Black people; and it reported on local and foreign events but always focused on Black accomplishments and self-improvement.
Freedom's Journal hit the presses on March 16, 1827 (the same year that slavery was abolished in New York), and ran each week until March 28, 1829. A total of 103 issues were published. It was the first newspaper owned, operated and published by Blacks. The office was located at 5 Varick St. in downtown Manhattan.
Russwurm and the Rev. Samuel E. Cornish, who was the minister of the first Negro Presbyterian Church, served as editors. Cornish resigned six months into the venture but Russwurm continued on.
A one-year subscription went for $3. Advertising was 25 to 75 cents for 12 to 22 lines. Circulation was around 800, with subscribers from 11 states along the Eastern Seaboard, as well as the District of Columbia, Canada, Haiti and Britain.
In addition to reporting on regional and national news, the paper also featured biographies and achievements of renowned and inspiring Blacks, like Paul Cuffee, Toussaint Louverture and the poet Phyllis Wheatley. It also featured wedding announcements, job and housing listings and obituaries. A popular feature was a column titled "David Walker's Appeal," which called for slaves to rebel against their masters.