Farrakhan: Get into unity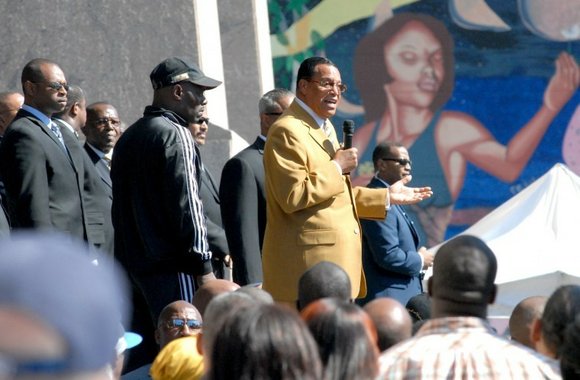 Striding across the stage under the shadow of the statue of Adam Clayton Powell, the former head of Harlem's Mosque No. 7 declared, "I am so happy to be home ... where it all began."
He dropped an abbreviated bio of himself, highlighting its depth perhaps most poignantly with the phrase, "You can't be a man until you meet a man." And that man was Brother Malcolm X.
After his murder in 1965, Farrakhan took over as head of Mosque No. 7. He reminisced, "[Even] when the Nation of Islam was strong, crime was bad, but it wasn't what it is today," the minister said with several references to how things seem to be going backward.
Noting that he will be 80 in seven months--to much applause and "Allahu akbars"--Farrakhan said, "I've been teaching for 57 years and I'm not tired! When I'm dead, I'll retire, and I'll still reach out to you from the grave." Quoting Michael Jackson's "Man in the Mirror," Farrakhan urged everyone to make that definitive change and be that agent of change that the world is waiting for. "We are holding ourselves back. What are we doing today to undo what they did? No message could be any clearer than if you want to make the world a better place, look in the mirror and make that change!"said Farrakhan. Be the solution, not the problem seemed to be the ongoing subtext.
"Pastors, you don't need to be in the church ... imams, you don't need to be in the mosques--you need to be in the streets."
He had just come from comforting mothers at Rucker Park who had lost children through gun violence and the Van Dyke Houses in Brownsville, where he urged young people to leave the violent path of destruction.
Black folks neither have factories to manufacture guns, nor planes to fly them into the inner city, and yet they are there in great number--prisons are being built with a Black body in mind, he said. He said he understood the role unemployment played in the scenario. He also slammed the controversial stop-and-frisk policy and urged Black cops to be clear about the dynamics at play.
Farrakhan told the crowd that as the original man, Black folk must always acknowledge that "No matter where we've spread, what tribe we belong to--the root of us is the same. Let's come back to the root and come into that kind of unity that will allow us to correct all of our problems and remove every impediment from the path of our progress."
When he was not cracking the crowd up with his impression of Mitt Romney's walk--"That brother sure takes some short steps, don't he?"--the 79-year-old internationally known leader of the NOI was lambasting folk for not being tighter, more focused, more spiritual and more disciplined. As he prepares for the Oct. 17 anniversary of the Million Man March in Charlotte, N.C., the minister could not be any clearer with his message when he called for the "need to get in unity."