Fighting the forces of darkness: AmNews and Bill Lynch hold second annual labor breakfast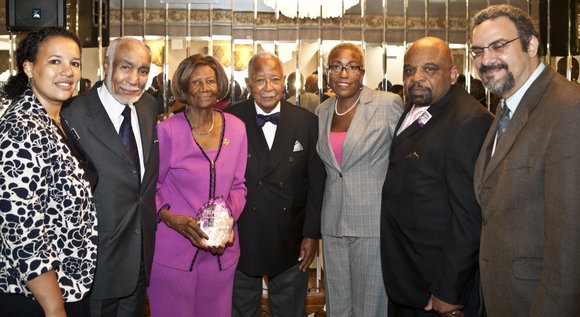 The Amsterdam News and Bill Lynch Associates hosted the second "Tying Communities Together: A Celebration of New York's Labor Movement" Thursday, Sept. 20, at the Alhambra Ballroom in Harlem.
"There's a theme that runs between the Amsterdam News, all the unions and Bill Lynch," said Bill Thompson at the breakfast. "They're all fighters. They stand up for what's right. And now more than ever, we need them to stand up and fight. Working men and women are under attack, unions are under attack ... and today, we are honoring three people that we're going to need more than ever."
The breakfast brought union leaders, community members and politicians together to honor NAACP New York State President Hazel Dukes, 1199 SEIU President George Gresham and DC 37 Executive Director Lillian Roberts.
Among the guests and many speakers honoring these three giants in the labor movement, who have known one another and worked together for decades, there was a sense of family and a need to pass on the stories of this family.
"This is the community that I grew up with," said Elinor Tatum, publisher and editor in chief of the Amsterdam News, "and to be able to stand here and salute them means so much to me and would mean a lot to my father as well."
Basil Paterson also took it back to his roots, telling the story of his father who, as one of only three Blacks in the union, went on strike with his local electricians' union. "Those of you who can't remember when unions kept Blacks out have a short memory," said Paterson, "but nowadays, things have changed. We're not only part of the membership, we're part of the leadership. ... The connection between trade unions and our communities becomes stronger and stronger."
Gresham explained the need to protect and honor those in the Black labor family and expressed his love for two men. "Bill [Lynch] is one and Basil Paterson is that other. If any of you try to do anything to them, you're going to have to go through me and 40,000 1199ers," he said.
Bringing this protective nature back to the larger group, Hector Figueroa, the new president of 32BJ, said Gresham "knows that the mission of the labor movement is to lift everyone, to leave nobody behind, to stop the forces of darkness and to lead us into the light of a movement."
Many stressed, as Paterson did, that an integral part of the story of the Black community moving the labor movement forward has been bringing the voices and faces of the Black community into the conversation to begin with.
Paterson described his first meeting with Roberts, the "one Black face [at DC 37], the one who identified with the workers most of all."
"I am glad that we have leadership of the labor movement that represents the membership," said Gresham. "I'm looking at 'Mamma Dukes' ... you are an honorable person, tough as hell. I never want to be on the wrong side of Mamma Dukes."