FILM REVIEW:'Mugabe: Villain or Hero'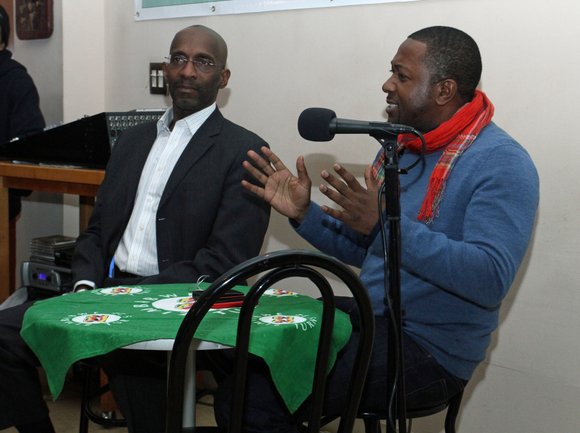 If you look back at any recent conversations you have had about Zimbabwe's President Robert Mugabe, you have most likely been forced to take a side: Are you for Mugabe or against him? Do you see him as a hero or a villain?
British-Ghanaian filmmaker Roy Agyemang raises this central question in his documentary "Mugabe: Villain or Hero" www.mugabevillainorhero.com. Agyemang was in New York City last week for screenings of the film, which he made in 2012. He is currently hosting screenings throughout the U.S. while looking to establish a relationship with a distribution company that can further promote the film.
Agyemang explained that he first started working on "Mugabe" in 2007 and spent three years in Zimbabwe filming the documentary. He has characterized the work as an attempt to give a balanced view of the president.
The filmmaker contends that Western media once praised the Zimbabwean leader and even covered the British Queen Elizabeth II's bestowing of an honorary Knight Commander of the Order of the Bath on him in 1994. However, Mugabe has been called a dictator by the Western media ever since the year 2000, when his administration enacted a land reform measure called the "Land Acquisition Act," which redistributed farm land once held almost exclusively by minority white farmers.
The land reform program had been a central feature of Zimbabwe's independence negotiations when they took place at Lancaster House in Britain in 1979, but land reform remained on hold for years because Zimbabwe's white farmers were supposed to be compensated for their land by Britain, the nation's former colonial master. However, the film shows that Britain's Secretary of State Claire Short, who served under Prime Minister Tony Blair, sent a Nov. 5, 1997, letter to Zimbabwe's Minister of Agriculture and Land Kumbirai Kangai declaring, "We do not accept that Britain has a special responsibility to meet the costs of land purchase in Zimbabwe. We are a new government from diverse backgrounds without links to former colonial interests. My own origins are Irish, and as you know we were colonized, not colonizers." With Britain refusing to compensate white farmers for the land reform, there was no longer any need to hold it at bay.
But once the program began, Western media portrayed the reforms as political patronage: It showed Mugabe using race to demonize white farmers so that he could give their land to his Black supporters, who--supposedly--did not know how to farm.
"What kind of aroused my curiosity was that usually when they demonize an African leader, they soon eliminate him," noted Agyemang during a press reception for the film at Sista's Place in Brooklyn. "But President Mugabe's been in power [since Independence in 1980] and they've yet to get rid of him--and I just thought, why, why is that? What is it that we don't know about the president that the Western media are not telling us? That's what I went to try and find out."