Jimmy Owens, Onaje at BAM, Sanabria's Kids Jazz
Hon Scott | 4/5/2013, 1:30 p.m.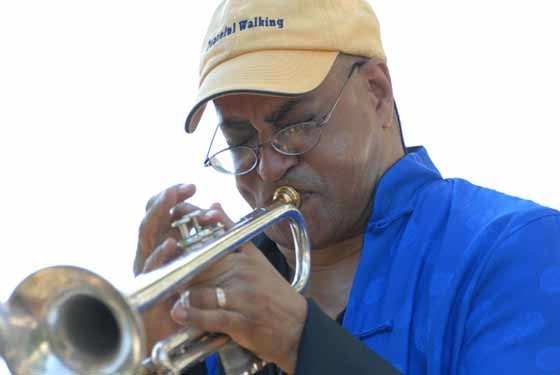 The Bronx African-American History Project (BAAHP) is celebrating its 10th anniversary with a day and evening of free events, workshops, lectures and concerts.
Trumpeter-composer Jimmy Owens will be the featured musician for the BAAHP celebration on April 6 at the Fordham University Bronx campus (441 East Fordham Road) in the McGinley Student Center at 8 p.m. The concert is free and open to the public but you must register.
Owens, born and raised in the Bronx, is the only National Endowment of the Arts Jazz Master from the borough. He will debut his original composition "The Bronx Suite" with his abled ensemble, which includes trombonist Wycliffe Gordon, tenor saxophonist Patience Higgins, guitarist Michael Howell, pianist Danny Mixon, bassist Kenny Davis and drummer Winard Harper.
Owens grew up on 168th Street between Union and Prospect avenues, attending P.S. 99, J.H.S. 40 and the High School of Music and Art. "Many of the people I went to school with are dead, in prison or poverty stricken," stated Owens. "To be in a special music class was very important in my life. It saved me and my friends in music. 'The Bronx Suite' is about some of the experiences I had growing up. This work translates it into music and words."
While living in the Bronx, Owens worked with such jazz musicians as Lionel Hampton, Charles Mingus and Gerry Mulligan. He became more diverse by playing with Latin, calypso and R&B bands.
"We're all pumped up about this," said Mark Naison, Ph.D. professor of African and African-American studies and founder and principal investigator of the BAAHP.
The BAAHP started out 10 years ago to create a database for scholars and people in the community to access the Bronx's African-American history and dispel perceptions of the borough as a rundown, drug-infested urban wasteland. In the process, it tapped into an undocumented legacy of the vibrant, grassroots music scene that was born in neighborhoods like Morrisania and spread to the rest of the country.
"What makes me so happy is one of Dr. Naison's former students got a special grant for me to write and perform this music," said Owens. "I am grateful to the Viola family for financially supporting this project."
At 5:30 p.m., "I Love the Bronx: The Musical Life of Dr. Valarie Capers," a rough-cut documentary about the acclaimed Bronx jazz pianist, directed by Dawn Russell, will be shown. Others on the roster are Bronx hip-hop artists Circa 95 and Rebel Diaz. There will be a DJ dance party that will last into the night. Visit http://theconcertbaahp10thanniversary.eventbrite.com or call 718-817-4339 for more information.
Jazz pianist and producer Onaje Allan Gumbs and New Vintage will converge at the Brooklyn Academy of Music (BAM) Cafe, 30 Lafayette Ave., on April 6 at 9 p.m. Admission is free.
Gumbs' guest musicians are bassist Gregory M. Jones, drummer EJ Strickland, Gregoire Maret on harmonica and percussionist Gary Fritz. The majority of the music was composed by Gumbs and the finale was written by one of the artists, Darien Dean.