Malcolm in the muddle : State senator arrested in corruption scandal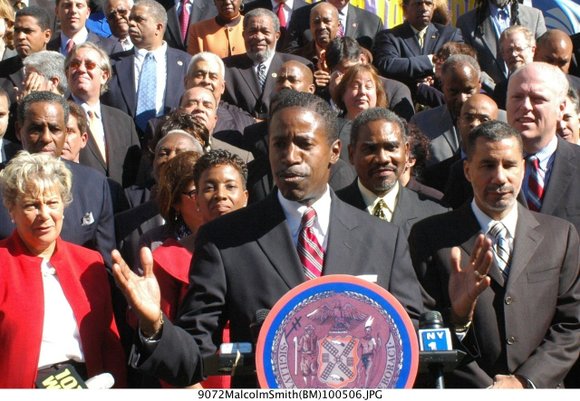 On March 28, New York state Sen. Malcolm Smith wrote on the social media site Twitter that "the theme of the week is 'Tell the truth.'" Maybe Smith knew what was coming a week later.
FBI agents arrested and arraigned Smith, New York City Councilman Dan Halloran, Bronx Republican Chairman Jay Savino, Queens Republican Vice Chairman Vincent Tabone, Spring Valley, Mayor Noramie Jasmin and Spring Valley Deputy Mayor Joseph Desmaret in a circular plot to rig the New York City mayoral race. The six were charged with bribery, extortion and mail and wire fraud. They were also required to surrender their passports.
The 28-page FBI complaint detailed how, with Halloran as the go-between, the senator and the councilman allegedly colluded and conspired to help an FBI agent (posing as a wealthy real estate mogul) bribe GOP officials in Queens and the Bronx so that Smith could run for mayor of New York City on the Republican line. According to the federal report, Savino and Tabone were set to receive $40,000 in bribes if they could help Smith get on the ballot. For his work as the mediator, Halloran would've expected $20,500 in bribes.
Non-Republicans need three out of five borough party leaders to agree in order for them to have access to the GOP ballot line in the primary. Smith wanted to buy his way to the ballot, but up to this point he has never declared his candidacy for mayor. Smith was arraigned and released on bond later on Tuesday afternoon.
Smith helped connect Jasmin and Desmaret to the real estate agent, and they were paid $10,500 in bribes as part of a real estate deal toward which Smith promised to steer hundreds of thousands of dollars in state funding. Halloran allegedly made an agreement to steer $80,000 in city council discretionary funds to the FBI agent's fake real estate company in exchange for contributions to the councilman's 2012 campaign for congress.
During one taped conversation involving Halloran and Smith, the former bluntly stated how he felt politics worked in New York.
"You can't do anything without the f--g money," said Halloran. "Money is what greases the wheels--good, bad or indifferent."
U.S. attorney Preet Bharara spoke at a Tuesday morning news conference about the investigation.
"As alleged, Sen. Malcolm Smith tried to bribe his way to a shot at Gracie Mansion--Smith drew up the game plan and Councilman Halloran essentially quarterbacked that drive by finding party chairmen who were wide open to receiving bribes," said Bharara. "After the string of public corruption scandals that we have brought to light, many may rightly resign themselves to the sad truth that perhaps the most powerful special interest in politics is self-interest."
State Sen. Jeff Klein began the bloodletting by stripping Smith of his leadership position and committee assignments in the Independent Democratic Conference. In statement, Klein said, "These are very serious allegations that, if true, constitute a clear betrayal of the public trust." According to his Senate page, Smith is currently the vice chairman of the Senate Finance Committee, the chairman of the Independent Democratic Conference, the chair of the Senate Social Service Committee, the co-chair of the Budget Sub-Committee on Super Storm Sandy Recovery and the co-chair of the Senate Bipartisan Task Force on Hurricane Sandy Relief.