Rep. Edolphus "Ed" Towns retiring from the job he loves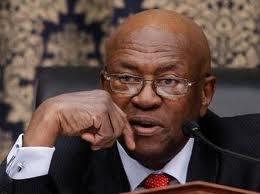 Taking a step outside of his downtown Brooklyn office, Edolphus "Ed" Towns walked down Joralemon Street surrounded by his constituents, but he went unrecognized. Wearing slacks and a sweater instead of his normal business attire, he walked with a smile going into one his favorite places to eat, Queen Marie Italian Restaurant at 84 Court St. "Hello, Mr. Congressman," the waiters greeted him.
The 78-year-old Chadbourn, N.C., native has represented Brooklyn's 10th Congressional District, the oldest and biggest Black political power base in New York, for the past 30 years. On Dec. 31, he will retire from the job that he loves.
"The fact that I was able to go places and do things was the best part of my job. Without my [congressional] involvement, I wouldn't have been able to do most of these things that I have done, such as going into war zones and helping people in my community," he said.
It was by accident that Towns put down roots in Brooklyn. "I came to Brooklyn in 1958 to visit friends, and I ended up staying," he said with a laugh. "But I'm happy I did. It has been a great experience that I enjoyed."
Before representing the 10th District, which includes Bedford-Stuyvesant, Brooklyn Heights, Brownsville, Canarsie, East New York, Williamsburg, Clinton Hill and Ocean Hill, Towns had numerous other jobs, all of which, he said, had built him many relationships and given him more respect for the needs of others.
He was a social investigator for New York City's Department of Social Services, a professor of sociology at Fordham University and CUNY/ Medgar Evers College, a teacher for the blind, where he taught students how to travel by using sound, and an assistant administrator at Manhattan's Beth Israel Medical Center, where he worked for 11 years.
Towns' political career began shortly after he left Beth Israel, when he became the first African-American deputy borough president in 1978.
His inspiration to run for Congress came from a woman born and raised in Brooklyn who had a huge impact on Towns' political career: Shirley Chisholm. Chisholm was an educator and politician who represented New York's 12th Congressional District from 1969 to 1983.
"She encouraged me to run for Congress," Towns said, adding, "I would have been involved in some sort of service--not sure if it would have been congressman."
Towns' main goal when becoming congressman was to get involved in health care and to join a health committee. Throughout his time as a U.S. representative, Towns performed legislative work in education, telecommunications, health care and affordable housing. Each has gained him much recognition. Towns has served as chairman of the House Oversight and Government Reform Committee.
Regardless of his work on the committee, Towns' biggest accomplishment, he says, comes from the Student Athlete Right to Know Act, which mandates the reporting of student athlete graduation rates from colleges. Another big accomplishment, he says, was the creation of the Telecommunication Development Fund, which provides capital for small and minority telecommunications businesses.