Rep. Edolphus "Ed" Towns retiring from the job he loves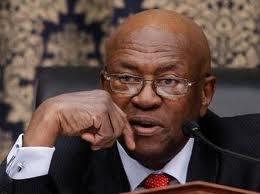 Towns found himself facing numerous challenges over the years. "My biggest challenge, I would say, is getting people to accept change. I tried hard to get information out to the people and reach out for them to be involved," he said.
Although Towns has accomplished a lot throughout his 15 terms as congressman, he managed to attract his share of controversy; one flap that many New Yorkers no doubt recall was Towns' decision to stand behind Republican Mayor Rudy Giuliani in the 1997 election.
"Giuliani negotiated and promised something that he would do for the community that I represent, such as housing in East New York and other communities," Towns recalled.
When asked if he would make the same choice again, Towns said, "If circumstances were still the same, I'd still support him. But it was a disappointment to me that he didn't keep his promises."
Through it all, Towns continues to stay grounded and motivated, and he says that is from the help of his wife, Gwendolyn, who has been by his side for 53 years: "She gives me words of encouragement. Her getting involved and helping me was motivation. She's a real partner and a great supporter."
With three decades of public service under his belt, Towns considers his determination to be a valuable trait.
"Even if things don't work out the first time around, don't quit; continue to persevere and don't hesitate to ask for help," he said.
Three days before submitting petitions for a spot on the congressional ballot in April, Towns stepped down from running again. His exit left the race to two men who had been running against him: state Assemblyman Hakeem Jeffries and Brooklyn Councilman Charles Barron.
When asked the big question on why he decided to retire, Towns' simply said with a chuckle, "Age."
"I reached a place where it is time to spend quality time with my grandchildren, and after 30 years, I felt like I was entitled to [retire]," he said.
To some, Towns may always be that Democrat who stood behind Giuliani, but he would like to be remembered as a guy who was and is concerned about the well-being of the whole community and who was able to lift people up.
"When I saw wrong, I did anything to make it right. I was able to get more young people scholarships than any other elected official in Brooklyn," he said, adding, "I'm retiring from Congress, not from the community. I will still be involved in health care, affordable housing and education. I also want to encourage communities to be more involved in political activities."
Although Towns tried his best to serve the communities he represented, some may feel that he could have done better.
"He was a man who served well as a congressman most of his time in office. He carried himself in a dignified manner and knew the ins and outs of his congressional district," said Henry Butler, chairman of Community Board 3 in Bedford-Stuyvesant. However, Butler added, "It is the job of a congressman to bring funding and resources to their district. I can't think of any big projects that were brought to the Bed-Stuy part of his district."